Your phone is like your life companion, always there with you! The device these days, if you are aware, comes equipped with sophisticated sensors ranging from gyroscopes used for navigation to thermometers measuring weather temperature. So, if reports are true, we could soon have a sensor built in our mobile phones to detect moods.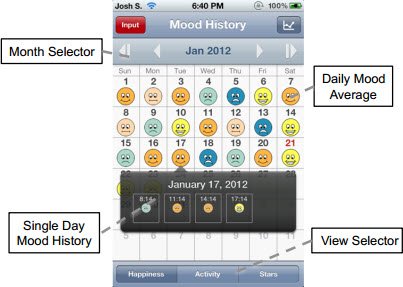 MoodScape: "Mood Sensor" app for smartphones
A team at Microsoft Research labs has developed an app for smartphones that could accurately gauge the mood of a smartphone user based on his activity during the day. A prototype of the first—of-its-kind smartphone software system has been built by Robert LiKamWa, and Nicholas D. Lane, from Rice University and Yunxin Liu and Lin Zhong of Microsoft Research Asia.
The developers say they tried out the system with 32 volunteers, running the app for a two-month period. The MoodScope app, as the name is given to it can estimate a user's mood with 66 per cent accuracy. That's not all the accuracy level can be raised to as high as 92% with the help of training software. The app could just use 3.5 milliwatt-hours a day and allow you to share mood states automatically to social networking sites.
The Microsoft researchers believe that the work is still in progress and the app is in its early stages of development since, there are number of factors that can influence mood like weather, or surprising news.
Despite this, they remain optimistic and suggest that with more data sets, the MoodScope app could improve further.