It was just a few days back that we posted about how Microsoft Researchers were secretly working on a new project to develop a software capable of revealing tomorrow's news today. Now comes the news that Microsoft Research is using a versatile, data-driven model to predict the winners of the Oscar Awards this year.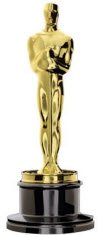 Last year, David Rothschild of Microsoft Research New York City was successful in predicting the outcome of the U.S. presidential election in 50 of 51 jurisdictions. Encouraged by the success of the model, he has now decided to predict the results of the Academy of Motion Picture Arts and Sciences' 85th annual Academy Awards.
David Rothschild feels that there is a 92% chance that Argo will win this years Oscar for the Best Picture.
His other predictions are:
Best Director: Steven Spielberg (Lincoln), 89 percent.
Best Actor: Daniel Day-Lewis (Lincoln), 99 percent.
Best Actress: Jennifer Lawrence (Silver Linings Playbook), 71 percent
"I am pretty darn confident," he says, "but the predictions are not 100-percent confident for a reason, so I look forward to seeing how we do on Oscar night!"
Lets us see how correct they come out to be!
Read the full Microsoft Research post to learn more.
You can try the Oscars Ballot Predictor from Microsoft.