Microsoft's Bing Predict is a relatively new product that helps predict election results around the world. The unique technology picks up data from politically related searches to collaborate and incorporate real-time information into the predictions; things like the social media preference towards a candidate or the likeliness of a star player not playing in an NFL game.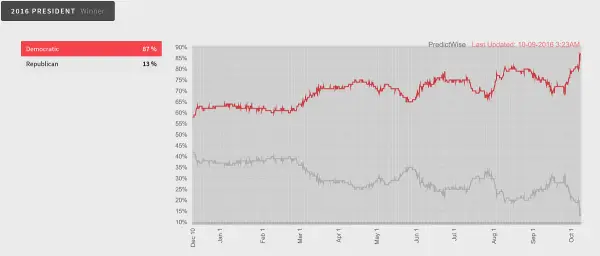 This is the technology that currently predicts a huge swing in favor of Hillary Clinton, the democratic nominee, as the next President of the United States.
"This is a Wild West field right now. You are talking about a massive industry that has reached a great disruption with the demise of its standard tool in the telephone and the rise of a new and innovative one in online, a place that we happen to be in," said Lee Brenner, head of market development for Technology and Civic Engagement at Microsoft.
The company is actively using Microsoft Pulse as the go-to technology for covering the 2016 US Presidential Elections. Pulse curates reactions from the audience to garner an overall view of the race. It helps major news broadcasters engage their audiences on second screens with real-time questions that bring out sentiment and feelings.
The Bing Predicts team has also now partnered with 'Cortana Intelligence' to create an even bigger enterprise offering of predictive analytics bundled with the elements of social media and web, all assembled properly in the cloud.
"For example, we can look at how people are searching for Xbox around announcements of new release dates, new games, and correlate that to how well they will sell in a given quarter. We use that signal for sales forecasting," said Walter Sun, team lead for Bing Predicts.
What do you think of the forecast? Trump or Hillary?