In order to simplify the PC experience, Microsoft is retiring the Modern app for its Skype PC users. At the moment there exists 2 versions of Skype app for Windows 8.1 – one is traditional Skype desktop app and other is full screen Modern UI or Windows Store Skype application. Instead of keeping two different versions of Skype app, Microsoft has decided to retire modern Skype app on July 7 2015, making Windows desktop version the only working Skype client for PC.
Skype Windows Store app to be killed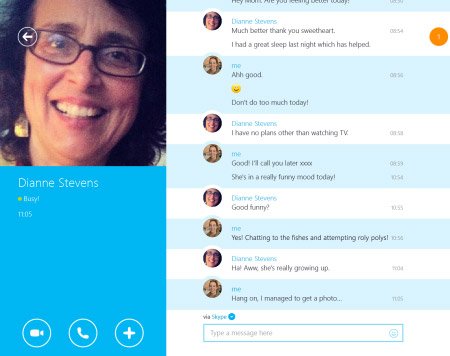 Skype team in their official blog wrote – Keeping the upcoming release of Windows 10 for PCs in mind, it makes perfect sense to use the Skype application which is specially optimized for mouse and keyboards which also has the capability of touch rather than having 2 separate applications performing the same job.
The desktop Skype app has similar functionalities as that of modern app and provides information in one single window – including notifications, multiple conversations and a full contact list. Skype app offers added features like group video calling, sharing screen for directions, collaboration in editing documents and is soon introducing the translation.
Starting from July 7, people who wish to access the modern application on PCs will be automatically directed to download the desktop Skype application. From there on, one could simply log in with their existing Skype or Microsoft Account credentials in order to login. Conversations from last 30 days are automatically made available in the migrated app.
There is no extra action required for existing Skype for Windows desktop users. There are no changes as well for users who are on Windows RT tablet device.