Microsoft has announced the release of a revamped version of Bing Site Explorer bringing in major new features. This release follows June 2020 updates when Microsoft announced the migration from the old Bing Webmaster Tools to the new Bing Webmaster Tools.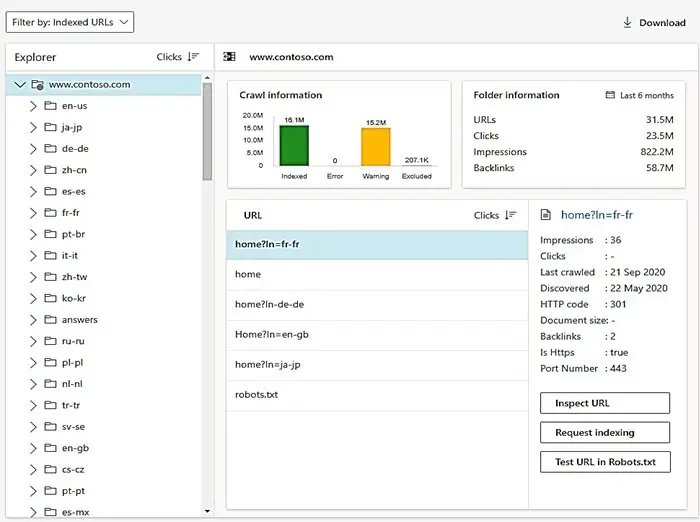 Fabrice Canel, Principal Program Manager Bing, mentioned on Twitter,
Today during pubcon keynote, I unveiled Site Explorer. A unique new Webmaster Tools seo view of how Microsoft bing sees your web sites. Explore in a lighting fast experience our site and access relevant information.
For those who are less aware of Bing Site Explorer, it is a webmaster tool that lets you know how Microsoft search engine Bing sees your site. As per Microsoft, Bing Site Explorer inspects URLs, including redirects, broken links, or those blocked by robots.txt, organized in a file explorer-like fashion. For webmasters, it allows navigation to each folder and the URLs within to understand, debug, and modify. Here is what all features you get with the new Bing Site Explorer:
Indexed URLs – You get to know the number of URLs that have been successfully indexed inside that folder.
Crawl Error – Know critical crawl errors responsible for not indexing of URLs.
Warning Signs – These include URLs with guidelines issues, temporary crawl issues, or robots.txt disallowed, etc. You can check for an increase/decrease in these numbers periodically.
Excluded – URLs with spam violations, low rank, etc.
Earlier this month, Microsoft also rebranded Bing to Microsoft Bing. So, this latest effort suggests Microsoft's renewed attempt to boost its own search engine presence. Although Google is heads and shoulders ahead of any of its competitors in this space, many are beginning to question its dominance and monopolistic approach at times.
According to Statistics guru, Statista, in April 2012 Google had a 91.7% share of the international search engine market, whereas in October 2019 that fell to 87.96%. During that time, Bing's market share grew from 3.5% to 5.26%, which Microsoft probably sees as an opportunity to grow.
Anyways, while Microsoft has a long way to go, it is worth exploring the revamped Bing Site Explorer tool. You can access it at bing.com/webmasters/siteexplorer.