Èmojis have been the new language the very fact that these symbols are expressive to the core is something that made it so sought after. Microsoft in the Windows 10 Anniversary update plans to update its emojis and introduce the popular Ninja Cat emojis. The updated Emoji set brings in a bunch of new emojis that can elevate your communication experience.
Windows 10 to include Ninja Cat emojis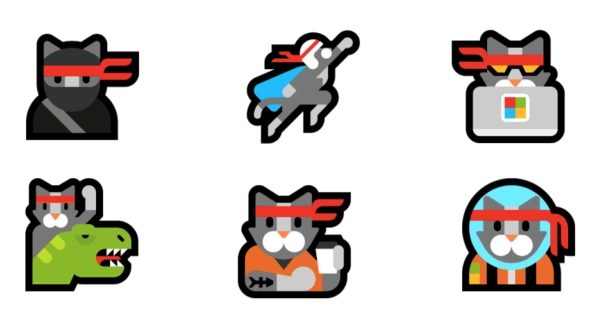 The Ninja Cat emojis are as of now exclusive to the Windows 10 and these are not standard Unicode emoji characters. What is even more surprising is that these new emojis are part of the Windows Insider Meme2.
It is likely that the Emojis have been implemented in a Zero Width Joiner sequence and combine two or more emoji to get the Ninja Emoji. The picture below will explain you the combination.

However, the sequences are supported by Unicode and one doesn't need to ask for approval. That being said the design of the Emoji has been completely changed with the anniversary update and now the characters come with a black outline.
The revamp in styling is not a repair job and it is something that Microsoft had to do from the ground up. Microsoft has changed back the default skin tone to yellow and the emoji's.
Read: Windows 10 Anniversary Update features.
According to Emojipedia, folks at Microsoft have attempted to understand the history behind the characters and redesign it accordingly.
Remember how Microsoft was the first one to introduce the "middle finger emoji", well it is also the first one to introduce vomit-face, shrug and fingers crossed emoji.
The new set of emojis also support a varied range of family combination. As of now this is just the preview and in all likelihood the final build might offer more stuff. And FYI the new set of Emoji will be released for the public in the "Summer of 2016."