Recently, Microsoft announced that the Windows 10 operating system had hit the milestone of running on one billion devices around the world. Now, in a celebratory video shared on Instagram, Microsoft's Chief Product Officer Panos Panay ended up revealing the new, upcoming Windows 10 UI in all its glory. The video also provides us with a glimpse of new, upcoming Windows 10 features.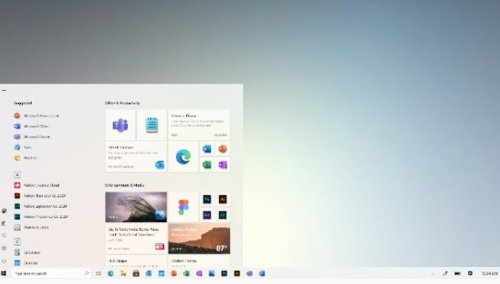 New Windows 10 UI revealed
Earlier this month, Microsoft confirmed its plans for the new design direction, which aims to make Windows 10 Start Menu look better. Meanwhile, the new video briefly shows off the redesigned start menu and updated Windows Explorer, and much more. The video also provides us with a glimpse of much wider adoption of Fluid UI. In a nutshell, the video is supposed to be a small teaser of what the company has in store for Windows 10.
Although Live Tiles don't seem to have vanished from the Windows 10 operating system per se, apparently, their significance has taken a big hit. The company has already confirmed that it doesn't want to get rid of Live Tiles and they are not going away. However, given the fact that the new Start menu looks much cleaner, Live Tiles may not be a standout feature in the upcoming major Windows 10 release.
"Live Tiles are not going away, we have not announced anything of the sort," says Brandon LeBlanc, a senior program manager on the Windows Insider team. "Those that enjoy their Live Tiles will continue to be able to do so."
Meanwhile, watch the video shared by Panos Panay below:
https://www.instagram.com/p/B97VqkXg0iN/
One thing is for sure. Microsoft's primary focus will be on reducing the clutter and redesigning the Start Menu. This way, the company is looking to simplify the user experience of the Windows 10 operating system. But as far as the Live Tiles are concerned, the company has already abandoned them in Windows 10X Start Menu in dual-screen devices.
We can also expect Microsoft's focus to be more on the expansion of Fluid UI.