There are more smartphone users today than ever. It's therefore becomes essential to observe certain safety measures and protect one's device, information stored in it from scammers. It doesn't matter if you are a man or woman, you should practice mobile phone safety and follow general rules regarding use of phones at appropriate places.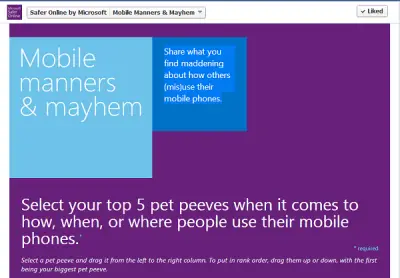 Microsoft Safer Online Facebook poll
The recently held Microsoft Safer Online Facebook poll on Mobile Manners just gives a glimpse of that. It reveals the biggest pet peeves smartphone users have surrounding mobile phone use along with trends in how the 2 genders deal with safety differently.
The following are the agreed-upon top five pet peeves:
Checking phones constantly
Talking loudly
Using or not silencing phones when appropriate
Using phones during face-to-face conversation
Delaying traffic by using phones
Here's what Jacqueline Beauchere, chief online safety officer, Microsoft had to say,
"Although we're all bothered by certain mobile phone behaviors, the more important point is knowing how to help protect one's device and information from scammers, rogue software and the oversharing of digital details. We know from earlier research that men and women practice mobile safety very differently."
According to the Microsoft  Computing Safety Index (MCSI), men do a slightly better job in protecting their personal information on mobile phones with some technical assistance.
35 percent use a PIN or password to lock their mobile device compared with 33 percent of women.
35 percent use secured wireless networks versus 32 percent of women.
32 percent keep their mobile devices up to date contrasted with 24 percent of women.
Still, men experience more mobile pitfalls since they receive unwanted emails from strangers trying to seek personal information (70 percent versus 65 percent) and more rogue antivirus popups (66 percent versus 58 percent).
Women, on the other hand look to safeguard more their online reputation, taking efforts to limit personal information online (40 percent versus 37 percent) and what strangers can see on social networking sites (40 percent versus 32 percent).