Windows XP users may already have started seeing the pop-up message from Microsoft saying that Windows XP End of Support is on April 8th, 2014. This had alarmed some Windows XP users, who were not aware that Microsoft had pushed an update KB2934207, on March 8th, to remind users about the fact that support for Windows XP will end soon.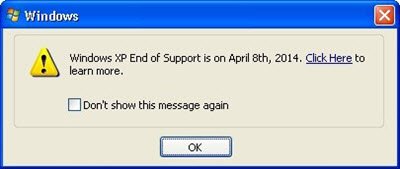 This pop-up is legitimate and will appear on the 8th of every month unless users decide to check the Don't show this message again option.
On the 26th of March, 2014, Microsoft Security Essentials on Windows XP was updated to v4.5.216.0. Windows XP users may now have noticed that MSE on Windows XP is displaying its status permanently in the Amber color, indicating Potentially Unprotected status.
The Microsoft Security Essentials icon in the notification tray too, is displayed in Amber. If you open the MSE interface, on the Home tab, you will see details and a similar notification. You will also see this alert from the notification tray, when Windows XP starts.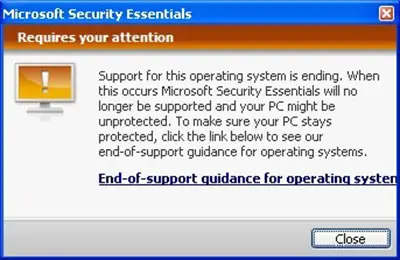 This display in Amber is to remind Windows XP users about operating systems end of life and you will not be able to change the status of MSE from Amber to Green, on Windows XP after the upgrade, says this Microsoft Wiki.
Microsoft will stop making available for download Microsoft Security Essentials for Windows XP, after 8th April, 2014. But if you have already installed Microsoft Security Essentials, it will continue to receive updates to the definitions through 14 July, 2015, even though the out-dated, but still-popular, operating system will not receive any security updates after April 8th – leaving your Windows XP computer, completely vulnerable and unprotected.
While it is always recommended to a newer operating system, if you feel that your upgrade decision may get delayed for some reasons, you might want to have a look at our post on securing Windows XP after End Of Support.