Microsoft Corp. released its Security Intelligence Report Volume 15, today. The report educates computer users about the potential threats that their machines might be exposed to during operation and suggests mechanisms to prevent them from causing any harm to an individual or their organization. The report is released twice a year. The most recent edition presents new data from the first half of 2013.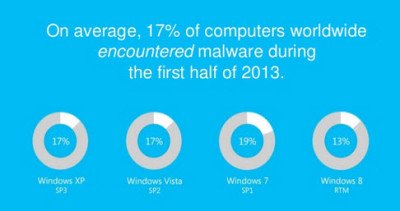 After analysing threat intelligence from more than 1 billion systems worldwide, the report suggests that people continuing to use unsupported operating systems and software are at high risk of being affected by latest malware variants and other vulnerabilities. It therefore, offers a simple solution to manage risk.
New telemetry suggests the security offered by modern operating systems such as Windows 8 is greater thanformer version of Windows such as Windows XP. So, it requests users to shift their experience from the older OS to the newer one for it possesses advanced security technologies, specifically designed to make it harder for cybercriminals to exploit vulnerabilities.
The report also highlights the dangers the old computers might be exposed to, if they continue the use of it. The security updates for some such as Windows XP would stop on April 8, 2014. It is therefore advisable to get adequate protection guaranteed with the latest version of the OS. Here's what a Microsoft Official had to say.
The importance of upgrading from Windows XP cannot be overstated. We truly want people to understand the risks of running Windows XP after support ends and to recognize the security benefits of upgrading to a more modern operating system — one that includes the latest in security innovations, provides ongoing support and can in turn better protect them", said Rains
Among other key findings in the new report one was the discovery of top 3 worldwide threats exploiting Windows XP:
Sality. Malware family that is capable of stealing personal information and lower a PC's security settings.
Ramnit. Malware that infects Windows executable files, Microsoft Office files and HTML files.
Vobfus. Family of worms that act as a host in downloading other malware onto a PC. It can also be spread via removable drives, such as USB flash drives.
Readers interested in learning more about the Microsoft Security Intelligence Report, visit this page.