Microsoft might soon release more of its 'Surface Products' seeing the impending demands in U.S, says company. Microsoft Surface Pro went on sale last Saturday and the 128 GB 10.6" Surface Pro table went out of stock in just a few hours. Staples and Microsoft stores reportedly sold out the initial stock bath of Surface Pro tablets. Despite its criticism of its thickness and poor battery life, Company claims it to be in great demand.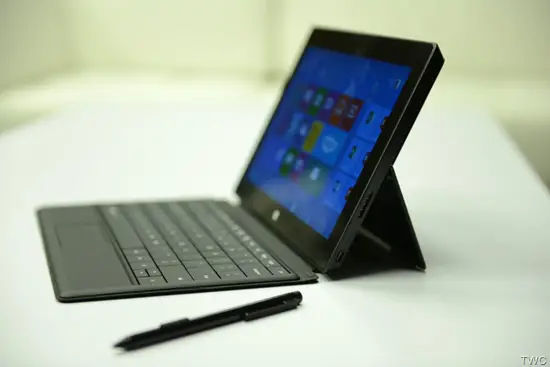 Microsoft said in a statement, "We are pleased that the demand for the Surface Pro is so great. Our focus is to get ordered Surface units delivered to our customers as quickly as possible".
As per reports posted by analysts, Microsoft has sold just a million units of its first version of Surface tablet (Surface RT tablet) during the Q4 in 2012, whereas Apple sold 3 million iPads in just first weekend.
Microsoft by far hasn't confirmed the number of Surface Pro tablet sold yet. Describing the sales, CEO Steve Ballmer said to a French newspaper Le Parisien, "While our approach has been modest, Steve notes the reception to the device has been 'fantastic' which is why he also stated that 'soon, it will be available in more countries and in more stores".
Replying to the customer's questions in #winchat about availability of next batch of stock, Panas Panay tweeted, "We are shipping more 64 GB now to BBY, Staples, MS Store and online. 128gb at BBY and MS Stores by Saturday". 



Said Panay to ABC News in a phone interview, "We are focused on the professional segment and the road warrior. The Pro is targeted at the professional road warrior who's moving and traveling and cannot compromise performance whatsoever." Panay cleared in his telephonic interview that Surface RT should be more as a tablet and Surface RT as a laptop. Surface RT tablet is available for sale on retailers at $499. It is powered with a lower processor and runs Windows RT.
When asked about future product plans of Microsoft Panay answered ABC News, "It will take some time for the product [the Surface Pro] to adopt. This is a good marathon for us; we are pretty excited about the short-term and the long-term. When you ask if you are making a laptop or a notebook, we have a pretty good selection of things we have been working on. It's pretty exciting."