Microsoft has cut down the price of its premium tablet – Surface Pro by about $100. Both the 64GB and 128GB models are entitled for this discount. Notably, the rebate doesn't seem to be made worldwide yet and can only be spotted for US, Canada, Taiwan and Hong Kong as of now.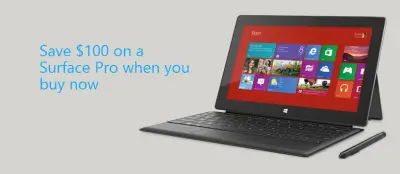 Last month when Microsoft announced its financial earnings at Q4 2013, their unsuccessful attempt at making the project Surface RT became official. The company lost a whopping sum of $900 million, which pretty much explains the 30% price reduction in its Surface RT tablets last month. Students get even more discount and can have it at $199.
Surface RT was originally priced at $499, and after the price cut it went tosale for $350. And now, this price cut hints at how desperately Microsoft wants to sell off its tablets. At the same time, if rumors are to be believed Microsoft is working on the new Surface tablet running on Intel's new "Haswell" processors, which are known for their outrageous power and longer battery life. In the AMA Microsoft held on Reddit, they also hinted of introducing back cover with charging capabilities. Speaking to The Verge, Microsoft's said,
"We've been seeing great worldwide success with Surface RT pricing and keyboard-cover promotions over the past several months and are proud to offer Surface Pro at more affordable prices starting today."
We have asked their representatives if this slashed prices will come to India as well – and will update this post when we hear from them.
Update: Microsoft's spokesperson spoke to us and said,
"We chose these markets based on strong customer feedback to date. We have nothing further to share about future market promotion plans."