The things you care about should be instantly accessible and easy to catch up as people spend more time online. Unfortunately, we get bombarded with irrelevant content from creators. Microsoft seems to have embarked upon a mission to change this behavior and begin your day with what matters to you most through its offerings like Microsoft Start, personalized News Feed, etc.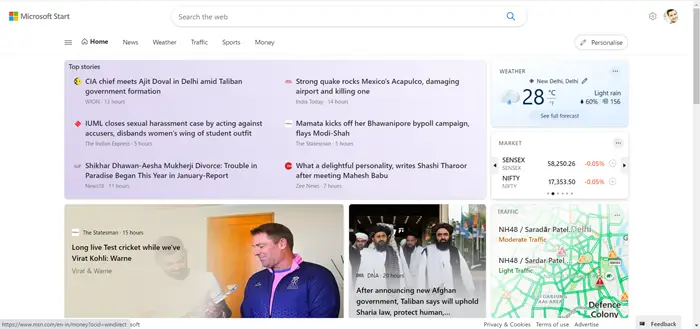 Microsoft Start makes its debut
Microsoft Start is a standalone website, available on browsers like Microsoft Edge and Google Chrome. It builds on the company's legacy with online and mobile consumer services like MSN and Microsoft News. The offering works by creating a personalized news feed for you by collecting informational content (news from premium publishers) that caters to your interest. Besides, its content is regularly updated and made available when and where you want it.
The more you engage with the content, the more refined your feed is likely to become. You can further fine-tune this experience by indicating your preferences to Microsoft.
Similarly, at times, you might just need a quick update. For this, your Feed will include information cards on topics like
Weather
Finance
Sports
Traffic
This sort of assortment can help you in adjusting which information cards should be included in your experience and solely focus on the information you deem fit for consumption.
So, beginning today, you no longer need to check your 5+ daily feeds to stay up to date. Just switch to Microsoft Start and jump between your laptops or smartphone to stay informed. You'll see all updates on the news and so much more under a single engaging and informative place. Microsoft Start is available as a mobile app on both iOS and Android.
For more information, you can visit Microsoft Blog.