Microsoft Stream videos now support noise compression for everyone. The company has announced the general availability of its noise compression videos. This way, Microsoft Stream users can enjoy noise-free videos. Microsoft Stream is an enterprise video-sharing service.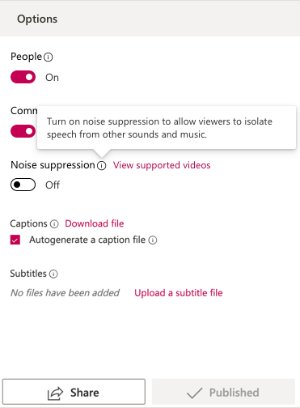 Noise suppression in Microsoft Stream videos
In its recent blog post, Microsoft had this to say:
"Make your remote workplace and virtual classroom content more effective by removing distracting background noise, so viewers can focus on the person speaking, not what's happening around them."
Video owners have all the rights to decide whether or not they want to enable noise suppression on a particular video. If noise suppression is turned on by video owners, viewers can easily isolate speech from other sounds and music during playback.
Microsoft Stream allows video uploaders to decide if they want to enable or disable noise suppression for each newly-uploaded video. Microsoft has also released a video demonstrating how Microsoft Stream noise suppression capability is just one click away.
Watch Microsoft Stream's real-time noise-suppression in action
Making noise suppression available for everyone
There are a couple of ways you can turn on noise suppression for a video. Navigation to the 'Options' section and flip 'Noise suppression' switch to On. Alternatively, you can turn on the 'Noise suppression' option while updating video details on the Videos page.
In the event that the noise suppression option is turned on, viewers can decide whether or not they want to turn on or off noise suppression for each video they watch. As a viewer, if you decide to leave the noise suppression option on or off for a single video, you can tap or click the noise suppression button either during playback or pause.
However, Noise Suppression is not available for all videos. Microsoft Stream has put certain limitations on the feature. Well, the noise suppression feature doesn't apply to the following videos:
Videos longer than two hours
Videos larger than 3 GB
Videos without an audio track
Videos with two or more embedded language tracks that viewers can switch between.
Interestingly, the noise suppression option may not appear on recorded Teams video meetings and sessions since real-time noise suppression is already integrated into Microsoft Teams.