Microsoft has launched the latest Surface Book 2 in 17 new countries including India. The Surface Book 2 was a long due update and was released in select regions in October last year. The new Surface Book 2 comes with increased computing prowess and is also being offered in new variants. Thankfully India will be getting both the 13-inch and the 15-inch Surface Book 2 variants both of which you can preorder starting today.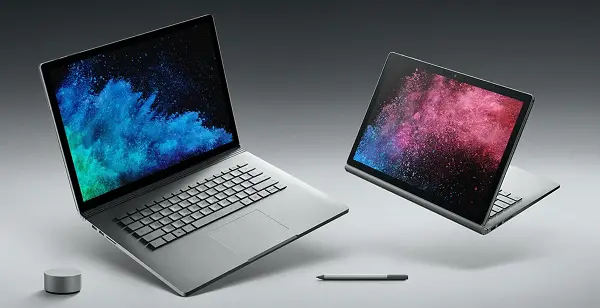 Microsoft Surface Book 2 to be available in all markets
The Surface Book 2 is touted as one of the most powerful Surface Book ever offered. Microsoft has upped the ante with 17 hours of battery life and for the first time is offering a 15-inch display variant. Powering the device is the latest 8th Gen Intel Core processors along with NVIDIA GeForce GTX 1050 and 1060 options. Thanks to the high-end hardware the Surface Book 2 supports VR and Windows Mixed Reality experiences.
The new device also supports Surface Pen with tilt and 4096 levels of pressure sensitivity. Most importantly the Surface Book 2 is still as compact as its predecessor and can be converted into a tablet in a matter of seconds. I personally opine that the Surface Book 2 shapes up as a great choice for creators and designers since they can use it like a blank canvas.
The Surface Book 2 weighs in at 3.38lbs and is said to offer 45% more pixels than the MacBook Pro. Connectivity ports on the device include a USB-A, USB-C and a usual SD card reader. Microsoft has also worked to integrate the Adobe Creative Cloud into the Surface Book 2 along with the Surface Dial feature.
In line with this announcement the preorders for Surface Book 2 15-inch variant is open in the following countries:
Australia, Austria, Belgium, Canada, Denmark, Finland, France, Germany, Ireland, Luxembourg, the Netherlands, New Zealand, Norway, Poland, Sweden, Switzerland, and the United Kingdom. In the latter part of the year Microsoft will release the Surface Book 2 in the following countries from later part of the year, Bahrain, China, Hong Kong, India, Italy, Korea, Kuwait, Malaysia, Oman, Portugal, Qatar, Saudi Arabia, Singapore, Spain, Taiwan, Thailand and the United Arab Emirates.
Check with Microsoft Stores, local retail or your commercial reseller partners for details on availability in your market.