iFixit teardown of Microsoft Surface Duo offers the 'internal' secrets of the foldable device, in addition to their reparability score. According to their teardown, Microsoft Surface Duo scores 2 out of 10, which makes it somewhat difficult to repair.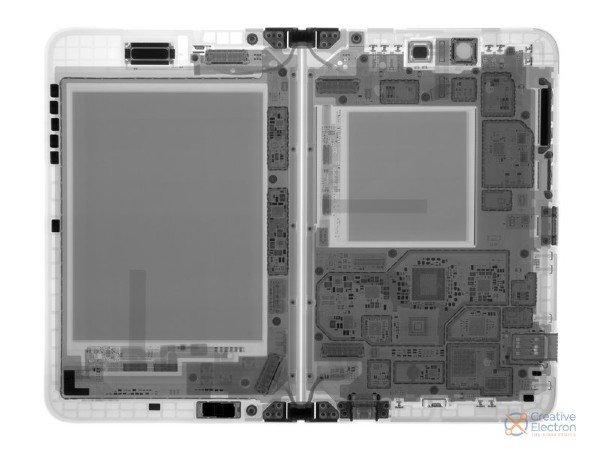 Microsoft Surface Duo teardown
Here's what Microsoft Surface Duo's teardown actually reveals:
"The Duo's entire left half bears a striking resemblance to a miniature iPad—great big battery, with a sliver of circuit board snaking around the right side," said iFixit. "The right half looks like nothing we remember seeing before—it's almost a solid wall of circuit board, with a little window in the middle for the second battery."
As we have mentioned before, iFixit finds Microsoft Surface Duo somewhat difficult to repair for a number of reasons such as stubborn glue at all entry point, unprotected OLED panels, among others. Following is the list of reasons why Microsoft Surface Duo is difficult to repair.
Batteries are glued and require extensive disassembly to service.
The USB-C port is soldered directly to the mainboard.
Uncommon tri-point screws secure key components.
Delicate OLED panels are not well protected from accidental prying, yet must be removed for most repairs.
Stubborn glue at all entry points complicates any repair attempt.
When unfolded, Microsoft Surface Duo is extremely thin as it measures only just 4.9mm at thickness. Talking about the display panels, they are booby-trapped, and upon further examination, the teardown process revealed both batteries are strongly connected to their respective rear panels.
Key hardware specifications of Microsoft Surface Duo
Display: Two 5.6-inch AMOLED screens
Battery: 3577 mAh worth of juice
CPU: Qualcomm Snapdragon 855 SoC
Memory: 6GB of RAM
Storage: 128GB and 256GB
Camera: 11MP f/2.0
On the software front, Microsoft Surface Dup runs Google's Android 10 operating system.
In related news, Microsoft has released Surface Duo kernel source code on GitHub so that third-party developers can build custom ROMs and kernels for the device.