Microsoft Surface Hub 2S, the company's most-expensive Surface PC to date, is now available in India. The Surface Hub 2S costs Rs 11,89,999. Plus, the package also bundles a Surface Hub 2 Camera and a Surface Hub 2 Pen. In addition to the Surface Hub 2S, the adjoining Steelcase Roam mobile stand is up for grabs at the price of Rs 1,17,500 across authorized Hub resellers.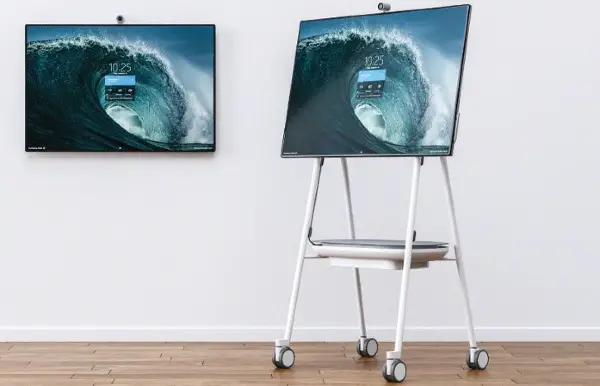 Microsoft Surface Hub 2S goes on sale in India
Microsoft says Surface Hub 2S is an all-in-one digital whiteboard, meeting platform, and teamwork collaborative computing device for the modern workplace, which allows to teams break free from the conference room and turn any space into a teamwork space. Meanwhile, the 84-inch variant of the Surface Hub 2S has not been announced for the Indian market.
Microsoft has partnered with Steelcase to offer a Roam mobile stand. It easily turns the Surface Hub 2S into an easy-to-hang wall mounting system. Microsoft Surface Hub 2S runs the Windows 10 operating system and bundles Microsoft Teams, Office 365, Microsoft Whiteboard, Azure's Intelligent Cloud integrations, among other things.
Rajiv Sodhi, Chief Operating Officer of Microsoft India said:
" In view of the current environment and more teams working remotely, the Surface Hub 2S seamlessly blends into any workspace."

"…the Surface Hub 2S is the perfect addition to enhance productivity, and as a boost to turn innovative ideas to reality."
Microsoft Surface Hub 2S Tech Specs
Surface Hub 2S sports a massive 50-inch multi-touch display featuring 3840 x 2560 resolution and 60Hz refresh rate. Well, the 4K+ display is further protected by Gorilla Glass. Internally, it houses Intel's 8th generation Core i5 processor, the UHD Graphics 620, and 8GB RAM.
On the connectivity front, it offers a compute port, USB-A port, USB-C/DP RJ45 Gigabit Ethernet, HDMI Video-Input, Mini-DisplayPort Video Output, and 4 USB-C ports on the monitor.
In the US, the 50-inch variant of the Surface Hub 2S costs $8,999.99 whereas the 84-inch variant of the Surface Hub 2S that comes with the Intel Core i7 will cost $19,999. The 84-inch version will be available sometime this year.