Microsoft Surface RT Tablet finally made its debut on Best Buy website on Wednesday, December 12, 2012. The Staples online store is also offering the Surface RT tablets now for the consumers.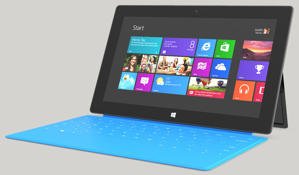 The PC-Software maker company announced on Tuesday that the Surface RT Tablet will soon be made available in the retail stores as well. Surface RT Tablet will reportedly roll out in U.S and Australian stores in mid weeks of December.
Microsoft Surface General Manager Panos Panay said in a statement:
The public reaction to Surface has been exciting to see. We've increased production and are expanding the ways in which customers can interact with, experience and purchase the Surface.
Corporate VP of Microsoft Retail Sales and Marketing, Steve Schueler said in a statement:
"Our plan has been to expand the retail presence for the Surface after the first of every year". "Based on interest from retailers, we are giving them the option to carry Surface with Windows RT even earlier."
Before making it available at Best Buy online stores, Surface RT Tablet was sold only through 34 holiday pop-up stores in U.S and 31 Microsoft's retail stores.
Surface RT Tablet (32 GB) is available in retail stores at $499.99; 32 GB Surface RT Tablet with black touch cover is available at $599.99 and 64 GB RT Tablet with black touch cover is available at $699.