A recent Microsoft survey has revealed that 4 out of 10 Internet users in the US experience online fraud attack daily. The online attack is targeted to access user's personal information via PC's, mobiles and laptops.
This Microsoft survey was conducted among 1006 Internet users aged between 18-74 in the USA via email invitation and an online survey. The most attacked devices are the PC's where 42% of the Internet users have expressed their concern of being compromised with attacks happening daily and weekly. Mobile phones which are being used extensively now-a-days record 18% attacks, whereas tablets and landline telephones account for 22% and 28% attacks respectively.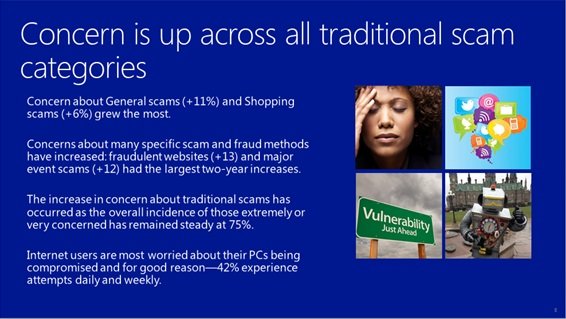 New Scams surface during the Microsoft Survey
The Microsoft survey reports that the average number of traditional scams experienced fell by 53% as the incidence of many traditional scams dropped. Lottery and advance fee scams dropped the most. Users are experiencing new scams associated with social media like Facebook and phone threats, raising the total number of scams experienced back to 2012 levels.
Increased concern about Mobile devices
Today, people are more concerned about protecting their Mobile phones and less diligent in protecting their PC's and personal information, revealed the survey. The percent of respondents who take steps to protect themselves on mobile devices rose from 48% in 2012 to 73% in 2014.
Mobile safety precautions include downloading apps from trusted companies or publishers (49 percent in 2014, up 21 percentage points from 2012); regularly updating mobile programs and apps (41 percent, up 17 percentage points from 2012); always using a four-digit PIN or passcode to lock the mobile device (39 percent vs. 20 percent in 2012), and opting for a more current mobile operating system (37 percent vs. 21 percent in 2012).
Microsoft recommends you do the following to stay safe online:
Do not share personal information in emails and messages
Protect information with strong passwords
Protect accounts and credit by staying on top of monthly balances and managing lines of credit
Update your devices regularly and use valid antivirus programs.
You might want to read these posts too:
Stay safe!