Microsoft announced the second iteration of the Surface Hub called as Surface Hub 2. Today, the Surface team at Microsoft has made multiple announcements regarding the same product. These announcements include the shipping details, hardware, design, and even the software.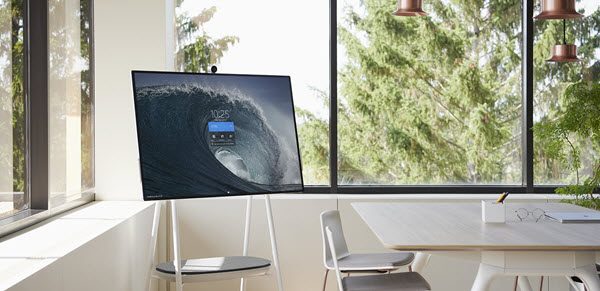 One of the major announcements related to the hardware side of the Surface Hub 2 is the fact that it will be based on a modular design. But that will be called as the Surface Hub 2S.
The Surface Hub 2S
The Surface Hub 2S will be coming with a 50.5-inch display. This display will be one with a 4K+ resolution and a 3:2 aspect ratio. To make the Surface Hub 2S a modern device, they have thinned up the bezels and now offer a better screen to body ratio. Though it runs the current Surface Hub experience, it is future proofed by the fact that it has a modular design as I mentioned above. This device will be able to be set on a particular orientation but the processor and other hardware components will be upgradable.
It will start shipping in the Quarter 2 of 2019.
The Surface Hub 2X
The Surface Hub 2X will be that variant of the device which will basically be able to tile as well as rotate. It will even support multi-user login. Otherwise, it will be same as the Surface Hub 2S but will, unfortunately, start shipping in 2020. Microsoft has not particularly mentioned if it will be running the current Surface Hub software experience or not because looking at the official renders, and as Microsoft earlier stated,
"It's an exciting time to be in the devices business, because the creation of new form factors and software experiences will not only lead us to work in new ways, but also in new spaces designed for collaboration."
We see a more modern software design on the Surface Hub 2!
You can read more about this announcement by the Surface Team at Microsoft here on Windows Blogs.