Aiming to help teachers keep track of student attendance, Microsoft has released a new app on Teams for Education: Attendance. This will not only allow teachers to take student attendance but also quickly generate attendance reports. This is part of the company's strategy to make Teams a part of educational institutions.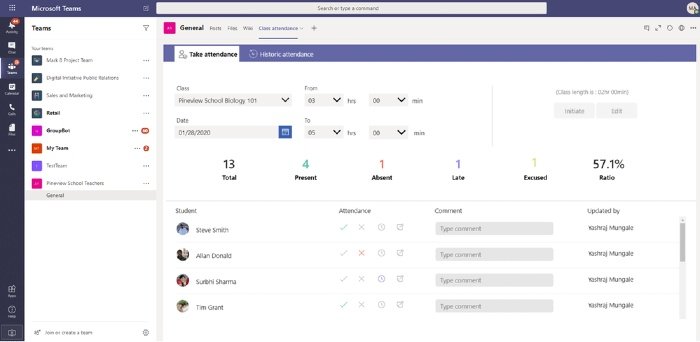 Microsoft launches new Attendance app on Teams for Education
Almost all schools, colleges, and universities have transitioned to remote, distance-learning in the wake of the global pandemic. As a result, both students and teachers continue to use remote communications tools to complete their syllabus over video lectures and other technologies,
Microsoft wants all educational institutions to rely heavily on Teams for Education to manage their learning activities. In its recent blog post, Microsoft wrote:
"In this situation, teachers needed the capability to take attendance within Teams. The Attendance app on Teams for Education allows teachers to take student attendance and generate simple attendance reports to answer frequent class attendance related questions."
Using the Attendance app, teachers can easily track student attendance, further eliminating the need for external tools to manage student attendance.
Let's take a look at various technologies that power the Attendance app on Teams for Education:
The Attendance app is built using Power Apps within Teams. Meanwhile, attendance reports are generated using Power Automate.
"Raw data for attendance is available on SharePoint lists and can be easily surfaced by reporting and data visualization tools such as Power BI."
The Attendance app, which is also available on GitHub, is subject to customizations. Meanwhile, let's see the key features of the app:
Teachers can take and save the attendance of students.
The list of students in a class is auto-populated from Office 365 groups.
Teachers can edit attendance for up to 30 days into the past.
Teachers can generate class attendance reports
Teachers can obtain the percentage of classes that a student has attended or missed
Teachers can generate student-specific attendance reports
The app is divided into three parts, namely input fields, summarized metrics, and the list of students. Teachers can select a class, enter the start and end times, and initiate a class by loading the list of students. Such a list can be pulled through Office 365 groups.
Summarized metrics show the total number of students, the number of students who are present or absent, etc. The student list lets teachers mark final attendance.
How to get started with the Attendance app within Teams for Education
First things first, create a team with staff members and enable sharing the app to any member added to the staff team. Now, create a SharePoint list automated using Power Automate:
Install Attendance Power Apps and Power Automate zip
Create SharePoint, Office 365 and OneDrive connections
Add Power App to Teams and get started
As per the recent Microsoft survey, 61 percent of teachers around the world expect to begin the next school year in a hybrid learning environment.