Microsoft is pushing distance-learning even further. As a result, Microsoft is now adding some new features to Teams for Education ahead of the upcoming school year. Some of the newly-announced features include expanded audience view, custom backgrounds, and class insights, etc.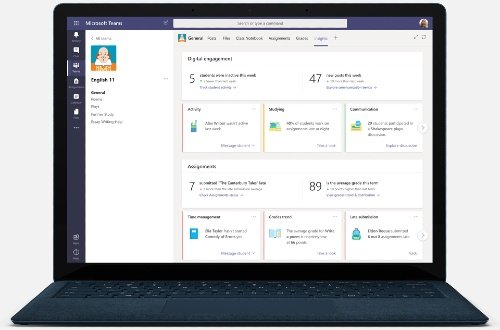 Teams for Education receives new features
Teams for Education is bringing 49 participants at once on a single screen. Meaning, Microsoft is expanding its grid view to 7×7. This is expected to boost student engagement to a significant extent. Teams for Education users will be able to preview this feature later this month.
Moving on, Microsoft is announcing something called Virtual breakout rooms. This feature will enable educators to create virtual breakout sessions for students to engage over projects in small groups.
"The new 'Teams for Education' features are aimed at increasing student participation and give educators' new methods to keep students digitally engaged," said Microsoft.
Aiming to boost student participation, Teams for Students is receiving support for the Raise your hand feature.
In the coming weeks, Teams for Education will allow teachers to view Attendance Reports and Class Insights, a data analytics breakdown on student engagement in class. This way, teachers can assess the rate of assignments turned in, in addition to activity metrics, and grades, among other things.
Furthermore, Microsoft is adding a new feature: Meeting Lobby. This feature will enable teachers to maintain control over the virtual classroom. The company is also adding some new meeting options, preventing students from commencing meetings unattended.
Microsoft conducts a new survey
Microsoft surveyed about 500 teachers and leaders from the academic background around the world. As a result of this survey, Microsoft has witnessed an uptick in the overall usage of remote learning tools.
According to Microsoft, 61 percent of participants expect to begin the upcoming school year in a mix of remote and in-person learning environments. At the same time, 87 percent of participants said they expect to use technology more in physical classrooms.
In April, Microsoft and the United Nations Children's Fund (UNICEF) together announced the launch of a new initiative called Learning Passport, which is a global learning platform to help youngsters continue their education remotely.