Microsoft is making it easier for enterprise companies to create teams with the help of Templates in Microsoft Teams, the company's enterprise video communication service that goes up against Zoom and Google Meet. This way, Microsoft is looking to boost Teams user base and user engagement given the rise in the overall consumption of remote communication apps around the world.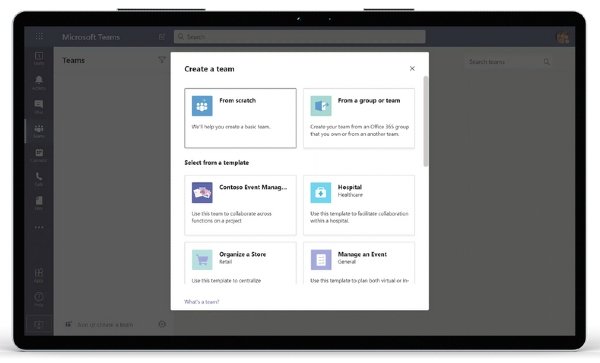 Microsoft launches Templates in Teams
In its blog post, Microsoft Teams wrote:
"Today we are thrilled to announce Templates in Microsoft Teams, enabling you to create effective teams faster and more easily than ever."
What is it?
Templates in Teams helps IT admins get started with Teams quickly. It lets users choose from a whole host of customizable templates when creating a new team. Businesses can also create new custom templates according to their requirements. Microsoft hopes it will allow businesses to standardize team structures, show relevant apps, etc.
How to create Teams quickly
Templates in Teams enables faster team creation. It brings channels, tabs, and apps under a common roof, allowing IT admins to get started with new teams without spending more time on manual configurations. With Templates in Teams, users soon will be able to choose from a variety of customizable templates when creating new teams, depending on the purpose of the team being created.
It will provide companies with options such as common team types, to begin with. Admins can choose from various teams type like event management and crisis response. Furthermore, admins can choose from industry-specific templates like a hospital ward and a bank branch.
"Templates are standardized team structures that come with pre-defined channels, tabs and apps—providing an effective team structure out of the box and helping users discover relevant capabilities."
Microsoft will roll out Templates in Teams in the coming months.
At its on-going Build 2020 virtual event, Microsoft has rolled out several platform enhancements to Microsoft Teams for developers. As a result, developers can build and publish Teams apps from Visual Studio and Visual Studio Code.
Other Teams-specific announcements from Build include the ability for IT admins to evaluate and deploy line-of-business and ISV applications for users and new ways for users to discover and engage with apps.
In April, Microsoft saw over 200 million Teams meeting participants in a single day, generating over 4.1 billion meeting minutes. Microsoft Teams has more than 75 million daily active users.