Both Microsoft and Google are trying to cash in on the change in terms of the way we use technology these days and how we interact with people around the world using various video-conferencing services like Zoom, Google Meet, and Microsoft Teams in the wake of a global pandemic.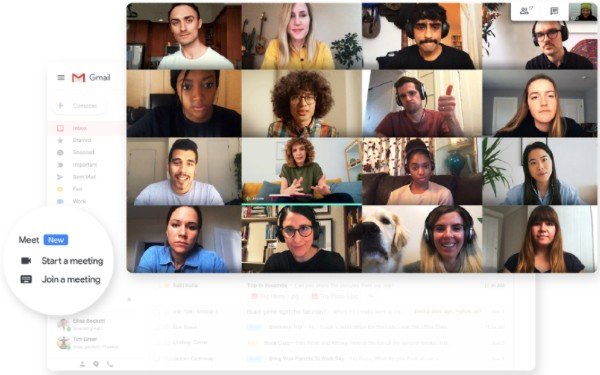 Google Meet hits 3 billion daily meeting minutes
Over the last few weeks, tech giants like Google and Microsoft have made their respective video conferencing services (or at least some features if not all) available free to general users — to boost their userbase.
Ever since Google Meet started offering some of its advanced features available free for all G Suite and G Suite for Education users in March, Google Meet's daily usage has witnessed a 30-fold increase in just a matter of weeks.
Furthermore, it leads to Google Meeting hosting 3 billion minutes of video meetings daily. In fact, Google said it was adding nearly 3 million new Google Meet users every day in April.
Last month, Microsoft said its video-conferencing service Teams had hit a new of 2.7 billion daily meeting minutes, resulting in a 200 percent jump from 900 million daily meeting minutes from March.
In April, globally, Microsoft saw over 200 million Teams meeting participants in a single day, generating over 4.1 billion meeting minutes. Microsoft Teams has more than 75 million daily active users.
Interestingly, both Google and Microsoft have realized the importance as well as the urgency of deepening email service integration. While Microsoft continues to expand its existing product-level integration between Outlook and Teams, Google sticks to a similar path.
"…And to make meetings even more accessible and helpful, in the coming days you'll also be able to use Meet directly in Gmail."
Tech companies swing into action
One thing is for sure that technology companies understand the demand for video-conferencing apps and services right now, and they are totally aware of the growing demand for video calling services in the future as well.
Recently, Facebook announced Messenger Rooms, which allows users to create a room to connect over a video call with up to 50 members. The interesting part of the Messenger Room is that it doesn't require a Facebook account to be a part of a Messenger room
In related news, WhatsApp may be integrating Messenger Room into WhatsApp Web.
Similarly, India's Reliance Jio is all set to launch JioMeet, an enterprise video conferencing service to allow up to 100 users to connect at the same time.