Microsoft Teams has hit a new milestone of 2.7 billion daily meeting minutes, resulting in a whopping 200 percent increase from 900 million daily meeting minutes from last month. Microsoft has released first of what's going to be a series of ongoing research studying how the remote work situation affects the consumption of many of its tools and services.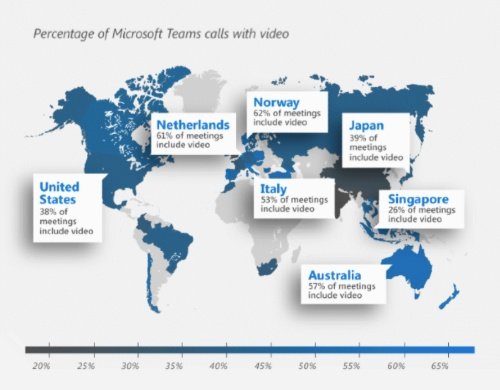 Microsoft releases Remote Work Trend report
While the company continues to witness a sudden jump in terms of usage of Teams, in addition to other tools and services like Windows Virtual Desktop and Power BI, students and teachers around the world are transitioning to stance learning in huge numbers. Currently, there are 183,000 tenants in 175 countries using Teams for Education to fulfill distance learning.
Commenting on these findings, Jared Spataro, Corporate Vice President for Microsoft 365, wrote:
"At a moment like this, when we are all adjusting to a new normal, it's never felt more important to help connect more people and keep more organizations up and running with secure tools."
As part of this ongoing research effort, Microsoft is making use of something called Microsoft Graphs, which combines the dots between data originated from the usage of Microsoft 365, Bing searches and LinkedIn, which Microsoft acquired in 2016 for $26.2 billion.
Undoubtedly, the number of Teams meetings has doubled since the coronavirus COVID-19 outbreak. Meanwhile, total video calls in Teams rose by more than 1,000 percent in March.
Norway and the Netherlands contributed the highest number of video meetings in Teams (60 percent each), followed by Australia (57 percent), Italy (53 percent), Chile (52 percent), Switzerland (51 percent), and Spain (49 percent).
Meanwhile, overall video meetings in Teams originated from India and South Africa are 22 percent and 36 percent, respectively.
"This may be attributed in part to less access to devices and stable internet in some regions such as India and South Africa."
Throughout last month, the average time between a person's first use of Teams and the last use of Teams each day grew by more than an hour. Meanwhile, the number of weekly Teams for mobile users increased over 300 percent from early February to March 31.
The consumption of Teams on mobile devices has significantly increased in countries like the Netherlands, Italy, Spain, and France. The number of daily active Teams users in China continues to be on the rise week over week.