Microsoft is going to retire Microsoft Support Diagnostic Tool (MSDT) and MSDT-based troubleshooters. MSDT-based troubleshooters are the legacy inbox Windows Troubleshooters that come pre-installed on all Windows 11/10/8/7 computers. Users can run them to fix some common Windows problems. Microsoft will deprecate these inbox legacy troubleshooters in the next Windows 11 release. However, the date for the next Windows 11 release is yet to be determined.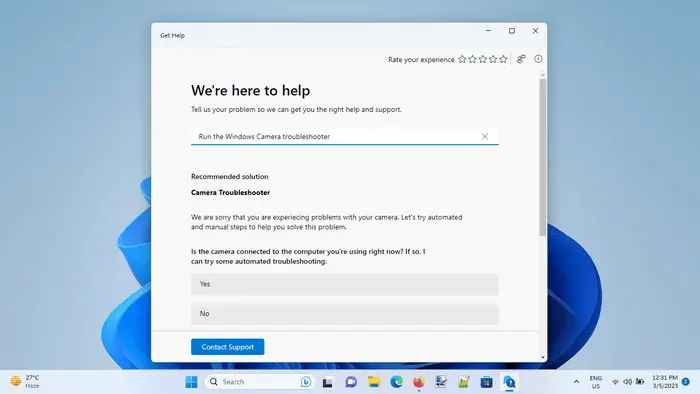 MSDT-based Windows Troubleshooters to be replaced with Get Help Troubleshooters
MSDT, in recent years, has been abused by threat actors as it can be exploited to run remote code executions (RCE). Last year, two vulnerabilities, Follina and DogWalk, were discovered by security researchers. Microsoft also confirmed this vulnerability in its official blog post. In order to address this, Microsoft released Windows Updates and shared some workarounds for the users to protect Windows from Microsoft Support Diagnostic Tool vulnerability.
According to Microsoft:
A remote code execution vulnerability exists when MSDT is called using the URL protocol from a calling application such as Word. An attacker who successfully exploits this vulnerability can run arbitrary code with the privileges of the calling application. The attacker can then install programs, view, change, or delete data, or create new accounts in the context allowed by the user's rights.
Now, Microsoft has decided to deprecate all built-in legacy Windows Troubleshooters. Soon, users with Windows 11, version 22H2, and later will not be able to use legacy troubleshooters. Instead, they will be redirected to the new Get Help app for troubleshooting purposes. These changes will be applied in the upcoming years via Windows Updates.
Microsoft has also shared the estimated deprecation timeline for legacy inbox troubleshooters on its official website:
In 2023, Microsoft will start redirecting some of the troubleshooters to the new Get Help troubleshooting platform.
In 2024, Microsoft will completely redirect the useful troubleshooters to the Get Help troubleshooting platform and remove the rest of the troubleshooters.
In 2025, Microsoft will completely remove the MSDT platform.
The complete list of legacy inbox troubleshooters that will be removed by Microsoft in 2024 is as follows:
Connection to a Workplace using DirectAccess
Devices and Printers
Hardware and Devices
HomeGroup
Incoming Connections
Internet Explorer Performance
Internet Explorer Safety
Keyboard
Power
Search and Indexing
Speech
System Maintenance
Shared Folders
Windows Store Apps
Microsoft also shared a list of legacy inbox troubleshooters that will be redirected to the new Get Help app:
Windows Update Troubleshooter
As stated above, these changes will take effect in the next Windows 11 update.
If you are running Windows 11 version 22H2 and older, Windows 10, Windows 8.1, Windows 7, etc., your device will remain unaffected by this update. Users with earlier Windows operating systems can continue using Microsoft legacy inbox troubleshooters.