Microsoft has been making a lot of changes in its products and services to keep up with the AI revolution and give the best to its customers. Cortana has been implemented in Windows for many years. Starting from late this year, Microsoft will stop supporting Cortana in Windows as a standalone app. Users can access the productivity features they are getting on Cortana in Windows and Edge, which are getting more and more AI capabilities.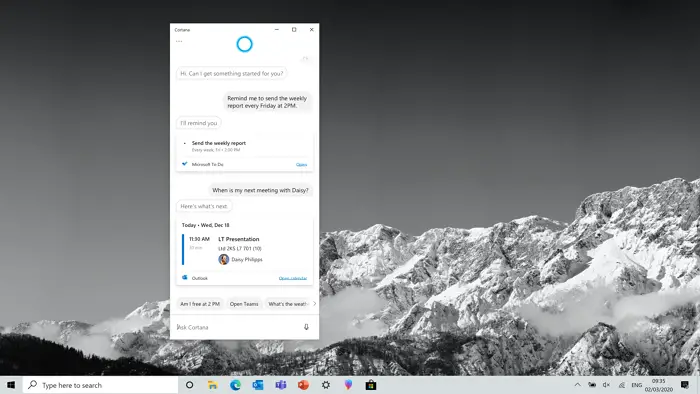 Microsoft to end support for Cortana in Windows
From late 2023, users will no longer be able to use the Cortana app with the latest features on Windows as Microsoft is stopping its support on Windows. Instead of Cortana, Microsoft is bringing its powerful AI capabilities in the form of Copilot on both Windows and Microsoft Edge. Whatever you do with Cortana like getting help with your tasks, calendar, and email, they all can be done with the new AI capabilities Microsoft is introducing. Microsoft has made it clear that Cortana will continue to be available on Outlook mobile, Teams mobile, Microsoft Teams display, and Microsoft Teams rooms.
Only the users on Windows will be affected by this move and it will take some time for the users to adapt them to the new features that Microsoft is recommending. Microsoft is recommending the following features that do all the things Cortana does to keep up with the updates and do your tasks seamlessly.
Voice access in Windows 11:  This is a new feature on Windows 11 on which you can use your voice commands to do tasks, control your PC and write text based on your voice commands. You can switch apps, browse the web, and read and write emails with your voice commands. It uses advanced voice recognition to understand your speech and do things even while you are offline.
The new Bing: This is the ChapGPT-powered advanced version of the Bing search engine. You can use it to get concise answers from the web. You can also use voice commands to get answers on the new Bing.
Microsoft 365 Copilot: Copilot is also a new feature from Microsoft that is too powerful and lets you do a lot of things easily. It helps you as an ultimate productivity tool by using your Microsoft 365 data.
Windows Copilot: Microsoft launched this feature recently in its Windows 11 June preview. Windows Copilot gives centralized AI assistance according to Microsoft. Windows Copilot lets you work on complex projects, and collaborate with people instead of wasting time working across multiple applications manually.