Microsoft has planned to retire VBScript in the near future. In a recent announcement, Microsoft confirmed that VBScript would be available as a Feature on Demand in future Windows releases before it is completely removed from the Windows operating system.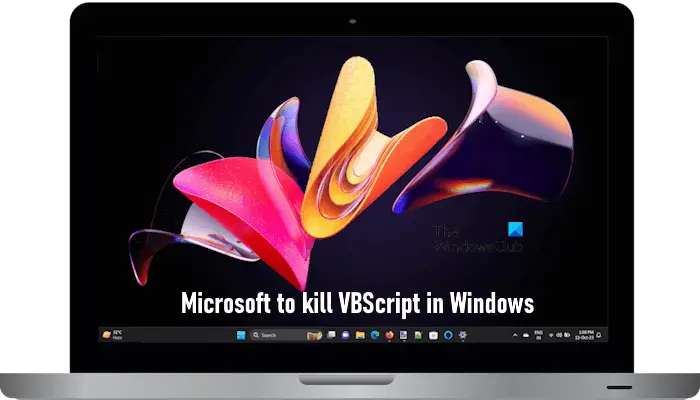 Microsoft to kill VBScript in Windows
VBScript or Visual Basic Scripting Edition is a scripting language developed by Microsoft and was introduced to Windows computers about 25 years ago. VBScript is modeled on VisualBasic and used for Windows automation and administrative tasks. Now, after 25 years in the market, VBScript will soon meet its end. Before being retired, VBScript will be available as a "Feature on Demand" in future Windows Releases.
Initially, the VBScript feature on demand will be preinstalled to allow for uninterrupted use while you prepare for the retirement of VBScript — says Microsoft.
Features on Demand are the Optional Features in Windows computers. Users can add and remove these optional features anytime as per their requirements via Windows 11/10 Settings or the Control Panel.
Previously in 2019, Microsoft disabled VBScript by default in Internet Explorer. This was before Micorosft disabled Internet Explorer permanently on Windows 11. Now, Microsoft decided to remove VBScript on Windows computers in all future Windows releases.
The possible reason for deprecating VBScript
Though Microsoft has not disclosed the actual reason for deprecating VBScript in future Windows releases, one possible reason for this can be increasing threats. No doubt, VBScript is marked as a significant development tool in automation and administrative tasks for Windows ecosystems, it has also been found as a powerful tool for cyber criminals to develop and distribute malware. One example of malware developed by using VBScript is ILOVEYOU malware, which emerged in the year 2000 and infected over 10 million computers around the globe.
Due to increasing vulnerabilities, Microsoft also deprecated MSDT-based Troubleshooters on Windows 11 version 22H2 and upcoming Windows versions and Windows releases.
Microsoft adds the removed features to the Deprecated Features list. You can view the complete list of deprecated features on the official website of Microsoft.