Remix 3D is retiring in early next year, says Microsoft. After being rumored for quite some time, the company recently announced the closure of Remix 3D website on the frequently asked questions page on the Windows support site.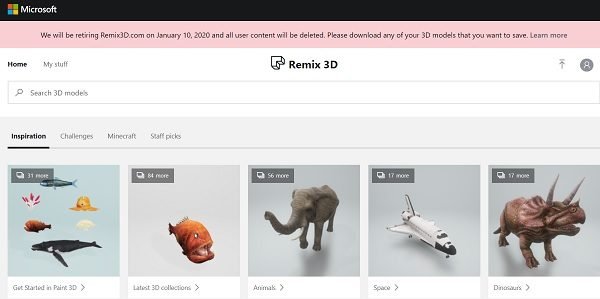 Remix 3D website to shut down
The announcement says,
"Microsoft is retiring the Remix3D.com site on January 10th, 2020. We advise all users who want to keep their uploaded content to take action and download their existing Remix3D.com 3D models to other file storage and sharing platforms as soon as possible, as Remix3D.com will no longer be available after this date".
Remix3D Users won't be able to upload new 3D models post-August 7, 2019, and the content already uploaded on the site will be taken down on January 10, 2020. You can use OneDrive as an alternative to share the 3D models. Also, you can still use their 3D Builder and Paint 3D to create the 3D models and enhance their content.
The announcement further says that after an update release, the Remix3D users won't be able to login to their accounts from any of the other Microsoft apps like Paint 3D, 3D Builder, Word, etc.
How to download your 3D models from Remix 3D
Open all your stored models on Remix 3D website from 'My Stuff' tab on the top left corner of the page. Here you can view all your 3D models created and shared on the website.
Click on any model you want to download and then click on 'Download Model' tab.
You will then get a dialog box, click on Save As, and you can specify the file name and select the location to save the file.
Remember that you first need to login to your account to download the models.
So, if you are a user at Remix 3D, make sure you download all your models before the site gets deleted. Microsoft will be deleting all the models and associated metadata on January 10, 2020, and you won't be able to access them.
Head over to the FAQ page if you have any more doubts.