The job of a researcher is to anticipate developments in the future. Researchers at Microsoft realize this well. As such they have embarked on the mission to explore how technology could be effectively used to augment the human body via Smart Tattoo Technology.
Tattio, a Skin Wearable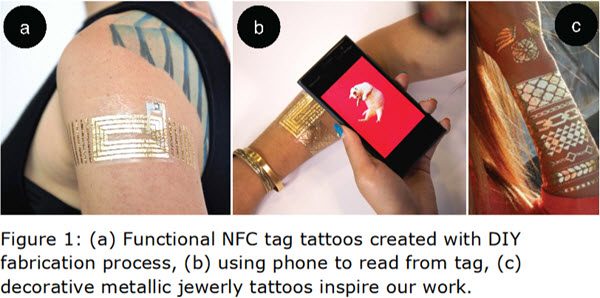 A few days ago, we learned that Microsoft was developing a DNA-based archival storage to curb the data storage capacity demand. Now, there's a word on the street that the Redmond giant is exploring ways via which technology could be used to empower people via its Smart Tattoo Technology.
The new project named Tattio increasingly relies on artificial intelligence and machine learning, a trend observed in recent times.
We present Tattio, a fabrication process that draws from current body decoration processes (i.e., jewelry like metallic temporary tattoos) for the creation of on skin technology. The fabrication process generates functional components such as NFC tags, circuitry, to Thermochromic tattoos, while maintaining the aesthetics and user experience of existing metallic temporary tattoos. The fabrication process is low cost, accessible and customizable; we seek to enable individuals to design, make, and wear their own skin technology creations. We present the fabrication flow, fabricated components, and also an initial user study probing perceptions towards wearing Tattio circuitry", reports Microsoft Research blog.
The report, published as a research paper is indicative of the company's effort in developing a different kind of wearable technology. The wearable as a small skin tattoo would be capable of storing NFC tags and circuitry while being skin-friendly and customizable.
The NFC tags embedded in the circuitry will be capable of functioning for at least a day. Researchers have specifically designed an app for this purpose. The app would be capable of interacting with tattio which could be associated with image and text to create a "digital identity."
For more information on this topic, visit this page.