A few days back, Microsoft has updated the Bing for iOS app with optimized cards for iPhone 6 and iPhone 6 Plus users. The updated version 5.4 had some useful features as listed below-
Optimized cards for users of iphone6 and iPhone6 plus
UI improvement and fixing different bugs
Improved Popular Now
Fixed bug in image search results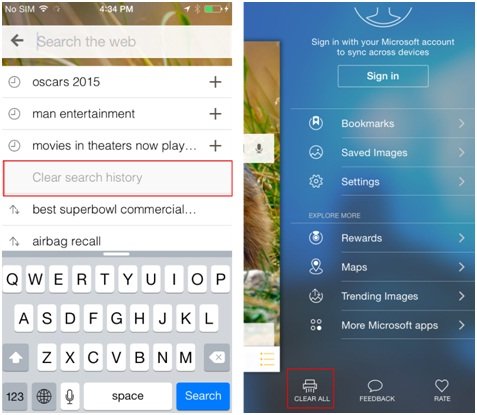 Because of the positive feedback from the users from all around the world, Microsoft has come up with a useful update for iPhone users. The new update is the clear search history feature that allow user to easily clear their past searches. This is the important step taken towards protecting the privacy of the users.
Speaking on the feature, The Bing Team, mentioned on their blog,
"Probably the most common concern people have online is protecting their privacy. Deleting search history and cookies is an easy way to manage privacy. We wanted to put our users in control, so we've made it simple to take these actions in the app.The simplest method to delete past searches is by tapping the 'Clear search history' button that pops down from the search box.You can also clear your entire history — including searches, cookies, and open webpages — by tapping the "shredder" icon in the bottom left corner of the Menu page:"
People from all around the world has responded very well to this new update, giving a 4.5 star rating in the App Store. Deleting cookies and search history is definitely beneficial from the privacy point of view. And with this update user has got the controls in his/her own hand.
So, start using Bing search on your iPhone using the official Bing search app which you can get for free from App Store. Start searching for images, news, videos, and trends on the web and stay up to date as the features that Bing App brings, certainly makes you fall in love with Bing.