After the success of its 'Big Fund' and 'BizSpark' programs, Microsoft has come forward with a new initiative to encourage entrepreneurship and has named it as 'Microsoft Ventures'. The company wishes to make create a stress free atmosphere for new businessmen through this program.

'Microsoft Ventures' will have a global scope which would spread to more than a 100 countries. It would offer advice, tools, seed money and other resources to entrepreneurs. Microsoft Corporation states the initiative to be quite a user friendly one. Its various services are as follows:
Microsoft Ventures Community: The Microsoft Ventures Community program will help anyone who has a great business idea in mind. Microsoft would be providing such people with technology and resources so that they could change convert their ideas into a successful business venture. In this community, the BizSpark program will continue to offer tools like Microsoft Visual Studio, Windows Azure, etc.
Microsoft Ventures Accelerator: Microsoft has set up their accelerator programs at Bangalore, Belgium, Paris, Seattle and Tel-Aviv. This is a program where entrepreneurs who have understood their potential can apply in order to sharpen their skills. In order to apply for this program, the company must have a full fledged team, a bold vision and an investment of less than $1 million. Thereafter the accelerators will provide the company with expert knowledge and necessary tools for their business setup.
Seed Funding: Microsoft would be financing its associates with seed money once their venture gains certain success. Furthermore, Microsoft would also provide them with their domain expertise as well as required technology capital.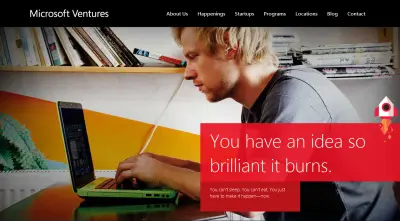 So in short, if you have an idea in your head and a strong desire to implement it, Microsoft Ventures is the key to the door of your success.
Log on to Microsoft Venture's official website for more details.