Microsoft has been pitching its Artificial Intelligence aggressively. Cortana now marks its presence across all Windows 10 device including the laptops. Cortana has indeed been one of the most customisable digital assistant I have used and Microsoft has been working towards the unified goal of adding new features every now and then.
Microsoft to add Academic Interests to Cortana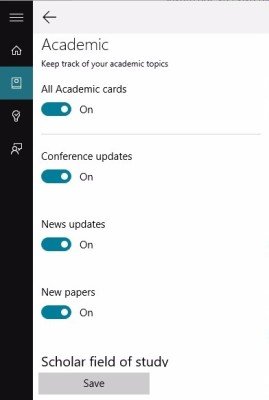 You might already be aware that Cortana keeps all her observations and interests in something called as Notebook, which in other words is akin to the physical notepad secretaries maintain. In Notebooks you can choose your areas on interests and Cortana will automatically update you with the happenings in that field.
Microsoft has recently added "Academic Interests", which is aimed at providing updates of the latest papers in their field, conference notification and any other update which would be otherwise difficult and time consuming to monitor.
Cortana will be zeroing in on your interests based on the web searches and users can also mention the areas of interests explicitly. The feature is being rolled out to users gradually and it is only a matter of time before the feature appears on your phone. That being said the academic interest can be a great tool for academicians as it is hard for them to keep track of all the events and developments in their respective fields.
Did you get the update already if yes let us know in the comments section below.
Hat Tip!