Earlier this year Microsoft had announced "Microsoft Whiteboard" a tool that would help student and teachers learn better in a more intuitive ecosystem. As one can deduce from the name, the Microsoft Whiteboard is an attempt to digitize the traditional whiteboard and add a bunch of new interconnected features that would help in better management of classroom notes and a near paperless experience. The app will also help teachers and students to recreate their ideas on the large screen and corroborate better.
Microsoft Whiteboard app for Windows 10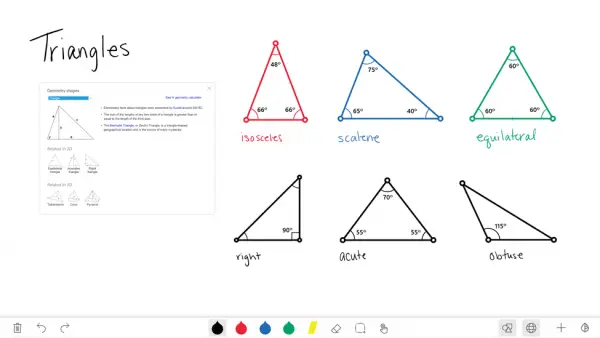 The app has been spotted on the Windows Store and is currently available for download. It seems that the Whiteboard app is still in a preview for the PC and the Surface Hub which means that the functionalities will be limited. Listed below are the highlights of this app
Pen Input
The most important aspect of the Whiteboard is that it accepts Pen input. This allows students and teachers use the digital pen or also draw with their own fingers. The Whiteboard is also designed for the big screen which means getting around feels natural on large, interactive whiteboards when connected to a PC running Windows 10.
Creating Interactive lessons on the big screen
Whiteboard comes with features that would let the users easily pull data from web content and from your own library. The content is then placed in front and helps teachers achieve a high level of engagement.
Real-time sharing and collaborating
Microsoft Whiteboard can be connected with a Collaboration space in OneNote Class Notebook this will allow the users to share content with a whole class and also make changes together in real time basis. Also, creating an assignment is easy, just with a quick gesture any text or content can be made into an assignment by using Microsoft Classroom. Students can also access the assignments from the Microsoft Classroom web and mobile apps.
It is available for download here.