Microsoft will now open source its Windows Live Writer tool, says Microsoft's Scott Hanselman via his tweet on June 10. This is truly great news for lovers of this popular blogging tool.
Released back in 2006, Microsoft's Live Writer is a blog publishing tool, which has been very popular among users since its launch. It gives users a convenient way to compose and manage their blog posts easily. It provides all the necessary blogging features allowing users to add photos, text as well as videos to their blog posts before pushing the publish button.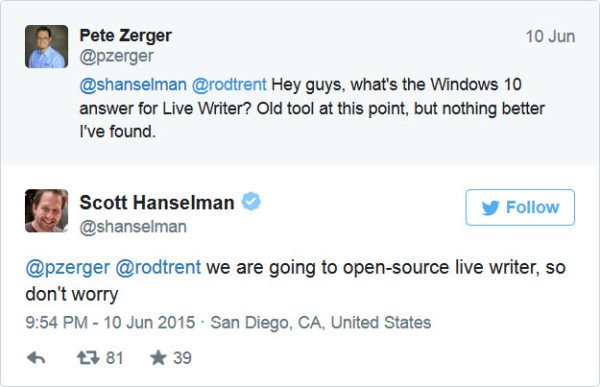 While the Live Writer has not been updated by the company for long, the tool including WYSIWYG editor has always been one of the favorite tools for bloggers and writers. The Live Writer supports almost every major blogging platform and helps users posting their blog posts directly. WLW which lets bloggers write their posts offline was also included in the list of Windows Live Essentials Pack.
The Windows Live Writer was last updated in 2009 and since the tool hasn't got much love from the company, finally the decision to make it an open source tool will definitely bring something good for users with some new features and functionality improvements.
Currently the tool supports the majority of Windows versions including Windows XP, Windows Vista, Windows 7, and Windows 8/8.1 as well.

While Scott Hanselman hasn't mentioned any other details about WLW in his tweet, we have to wait for official announcement on the same. Stay tuned for more updates.