Microsoft Lumia 535 and Lumia 535 Dual SIM smartphones powered by Windows  Phone8.1 with Lumia Denim OS out of the box, have been announced. Lumia 535 and Lumia 535 Dual SIM will be the first smartphone under the Microsoft Lumia tag line. This smartphones are considered to be as the low budget handsets developed by the company, as Microsoft is looking forward to bring in more sales for the company in terms of low-end handset market.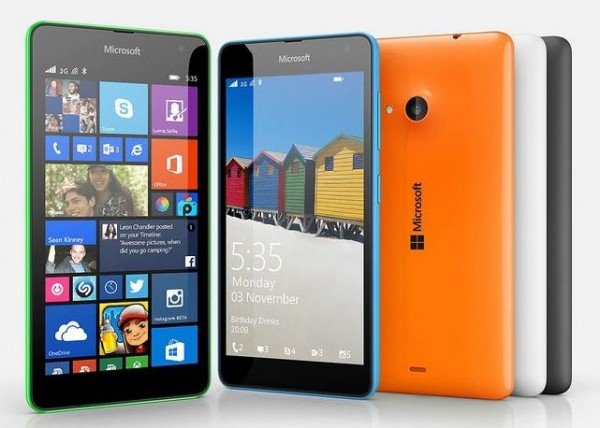 Microsoft Lumia 535
Lumia 535 and Lumia Dual SIM comes with 5-inch qHD display at 960×540 px, 5MP front camera, powered by 1.2 GHz quad-core Snapdragon 200 processor and 1 GB of RAM.
Microsoft has tried its best to bring in as many feature in the device as possible, that were not available in previous versions of low-budget Lumia devices. A RAM upgradation from 512 MB to 1 GB will help the applications and system files run more efficiently than before. Apart from RAM, there were many other drawbacks those were present in previous version and Microsoft has worked on those areas and added them in Microsoft Lumia 535 and 535 Dual device keeping the handset price in mind.
Microsoft has signed partnerships with low-cost handset manufacturers, to bring in Windows Phone in the market hence to compete with models like Nexus 6, HTC, iPhone 6 and other smartphones.
Lumia 535 comes with our '5x5x5' proposition," said Jo Harlow, corporate vice president for Phones at Microsoft. "Innovation should be available to everyone, and we are doing this through the very best integrated Microsoft services included and out of the box, a 5MP wide-angle front-facing camera, and a spacious 5-inch qHD screen — all at an affordable price.
Microsoft Lumia 535 and Lumia 535 Dual SIM will be made available from November onwards in selected markets across the globe. The device will be available in bright green, bright orange, white, dark grey, cyan and black and comes with a price tag of 110 euro excluding taxes.