The Holiday Season is upon us, and this is the time of the year where everyone celebrates the spirit of sharing by spreading joy and happiness, including the corporate world. Giving Tuesday, as we know, is celebrated by various organizations, which come together after Thanksgiving to contribute and do something meaningful for the society.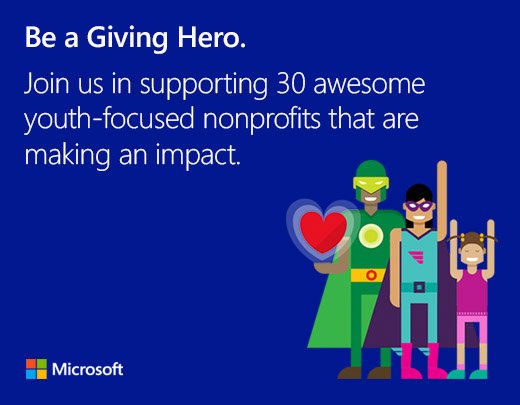 Microsoft YouthSpark's Giving Heroes Fund
Microsoft is one of the founding partners of GivingTuesday.org, and this year, Microsoft YouthSpark, an initiative to support around 300 million youth worldwide by creating growth opportunities for them, joins the noble cause of Giving Tuesday by creating a Giving Heroes Fund. The amount raised by which will be allocated amongst the 30 Non-Profit Organizations, which have been chosen and shortlisted by the employees of Microsoft.
The YouthSpark program by Microsoft majorly targets the youth of 6-24 years and support them in making a brighter future by helping them in areas such as education, training and preparation for a job or pursuing any vocation/entrepreneurship. Microsoft feels that today's youth has the required passion, will and the ability to transform their lives and the entire community around them, all we need to do is provide them the right channel and opportunity and that is what the Giving Heroes Fund targets this Giving Tuesday.
Your donation to the Giving Heroes Fund will be allocated to these 30 youth-centered Non-Profit organizations, which are working hard to support and transform the lives of numerous youth all around the globe. You can make a contribution, and you can also leave a recorded message through Skype, as to which organization you support.
So, go ahead, play your part in changing the lives of youth by donating to the Giving Heroes Fund, which is being managed by the GlobalGiving Foundation and Microsoft YouthSpeak.