We all know that CCleaner is among the most popular freeware Registry & Junk Cleaner for Windows. It cleans out the registry and junk files and supposedly makes your Windows computer faster. We say supposedly because it is not entirely sure if such is the case.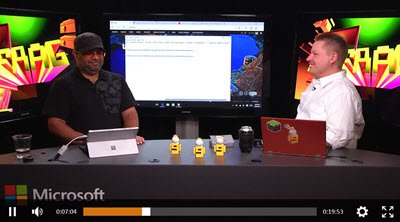 Recently, Microsoft tech troubleshooter extraordinaire Gov Maharaj was troubleshooting problems for Windows users via The Defrag Show on Microsoft's Channel 9 website.
He was attempting to help a person who had issues upgrading his computer from Windows 7 to Windows 10 – and had booting problems, so he was suggesting the software and drivers the user should remove from his computer before trying the upgrade process again.
Maharaj began to list the programs, and when he reached CCleaner, it was clear from his tone that there's no love for this program at all.
Here's the conversation regarding CCleaner with Maharaj and the host. Hear him say this on channel9.msdn.com around 6.50 minutes.
"CCleaner is … how do I put it mildly … Don't… let's just move on!"
CCleaner is perceived to be an excellent program, and thousands, are using it. So when someone from Microsoft says something like this, it it bound to catch our attention. And we are assuming he is referring to the Registry Cleaner part of CCleaner, and not the Junk Cleaner part.
For the records, here is Microsoft's original take on Registry Cleaners on onecare.live.com (link now removed):
Over time, the Windows Registry can begin to contain information that's no longer valid. Maybe you uninstalled an application without using the Add or Remove Programs function in the Control Panel, or perhaps an object or file in the registry got moved. Eventually, this orphaned or misplaced information accumulates and begins to clog your registry, potentially slowing down your PC and causing error messages and system crashes. You might also notice that your PC's startup process is slower than it used to be. Cleaning your registry is the easiest way to help avoid these common problems.
Now however Microsoft does not support the use of Registry Cleaners on modern Windows operating systems, yet many still prefer to use it.
Some products such as registry cleaning utilities suggest that the registry needs regular maintenance or cleaning.  However, serious issues can occur when you modify the registry incorrectly using these types of utilities. These issues might require users to reinstall the operating system due to instability. Microsoft cannot guarantee that these problems can be solved without a reinstallation of the Operating System as the extent of the changes made by registry cleaning utilities varies from application to application.
Over to you. Do you use CCleaner and what is your take on it?