Microsoft has created a series of interactive visualizations that track the on-going pandemic situation concerning the number of active cases, testing, risk levels, etc. Created using Power BI, these interactive visualizations further divide into additional metrics such as P0 and Rt, testing, and risk levels. These maps update every night at 11 PM Pacific time. According to Microsoft, the update process can take several hours to reflect.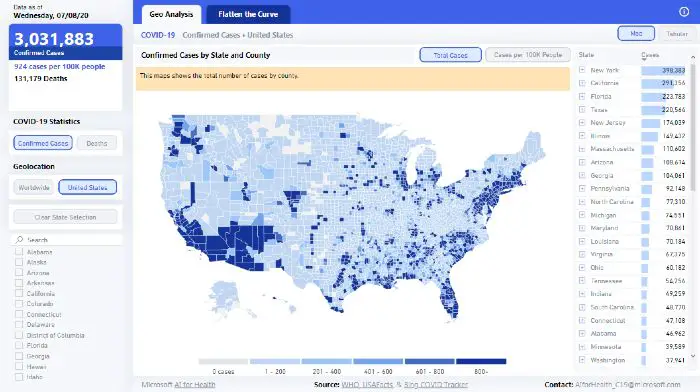 Microsoft creates data visualizations using Power BI
"These interactive visualizations are part of Microsoft AI for Health, an initiative to advance the health of people and communities around the world. This five-year commitment was created to empower nonprofits, researchers and organizations with AI and data science," Microsoft said.
Microsoft says it created these interactive visualizations based on publicly available data. Now, let's discuss some of the key metrics of this initiative:
While P0 shows the percentage decline from the previously recorded peak. Rt denotes the rate of transmission. P0 and Rt are supposed to help users understand the spread or decline of the disease. Meanwhile, the Testing metric shows how countries are tracking towards targets for testing potential patients. Risk levels denote the number of daily new positive cases.
The map data is sourced from WHO, Bing tracker, Harvard Global Health Institutes, London School of Hygiene & Tropical Medicine, IHME, USA Facts, Washington Department of Health, among others. Microsoft AI for Health's major focus remains on data and insights, treatment and diagnostics, allocation of resources, dissemination of accurate, and Scientific research.
Recently, Microsoft MVP awardee Ingeborg Hawighorst created her tracker to monitor the pandemic situation in her country using Microsoft Excel. She also published a 45-minute video explaining in detail how she managed to pull off her dashboard using Excel.
Later on, she created a map chart in Microsoft Excel to show the numbers for each region using color shading. But that was not an easy task since a lot of manual changes had to be integrated into her final dashboard. She later switched to Power BI, a data visualization service by Microsoft.
Thanks to Power BI, Hawighorst could plot points on the map instead of regions. PowerBI also allowed her to make the dashboard publicly accessible on the internet.