It is no secret that Microsoft has started focusing on India as one of the strongest markets for software and hardware products alike. Alongside many efforts to leverage the voids in the market, the company has also been trying to improve its workspaces in the country.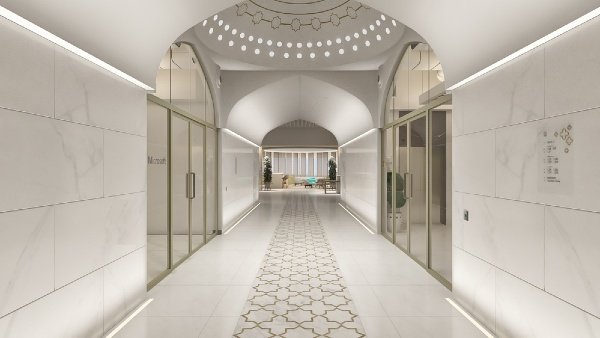 Microsoft IDC Noida Office
Latest on a list of such actions is the newest Microsoft office space in Noida, a city part of India's National Capital Region. This brand-new office space has been designed to convey the country's mixed culture, and the design is inspired by the Taj Mahal, often considered one of the best human-made architecture in the world.
Microsoft says that this office space will provide a new experience for hundreds of employees who come to the office after spending several months at home as a part of the Work-from-Home streak. This new office is one of the Microsoft India Development Centers the company would have in the country.
"What sets the space apart from regular corporate workspaces is the historical context it draws from. Bathed in ivory white and punctuated with jaali work (a Mughal architectural style of perforated stone or latticed screen), arches, and domed ceilings, the IDC Noida campus' architectural reference points, inspired by one of the world's biggest architectural wonders, the Taj Mahal, are hard to miss," Microsoft said.
While the design has used the Mughal architectural reference points, it is hard to miss the incredible use of ivory white and domed ceilings. RSP Design Consultants and Microsoft Real Estate and Facility team at Microsoft India had worked together to achieve this dream. Although Microsoft has two IDC campuses in Hyderabad and Bengaluru, the new office placement in Noida will help Microsoft manage the talent pool.
We're excited to introduce our latest India Development Center hub in Noida, inspired by the Taj Mahal! Come, take a look. https://t.co/Gl6rs8r9M7 pic.twitter.com/CQeo5EcVtY

— Microsoft India (@MicrosoftIndia) January 28, 2021
Even before Satya Nadella started spearheading the company, Microsoft was known for using India's best minds. According to Rajiv Kumar, the managing director of Microsoft IDC, the Noida campus will be Microsoft's next step in recruiting the country's best minds, just like it had opened the Hyderabad and Bangalore campuses in the late 1990s and early 2000s, respectively.
He also adds that building a space like this — inspired by India's true heritage — has been a dream since he came back to India from the Redmond campus in the United States. Looking at the photographs of the new space, it is clear that the RE&F team at Microsoft has accomplished an impressive task.
Mr. Kumar also adds that the office space will assist the company in reaching a broader customer base. See more pics here on Microsoft.com.