Microsoft is finalizing its work on a new password manager utility called Passwords, which would work on Microsoft Edge, Google Chrome, and mobile devices. It's said that the utility would securely sync users' username-password credentials between Android, iOS, PC, and Mac devices.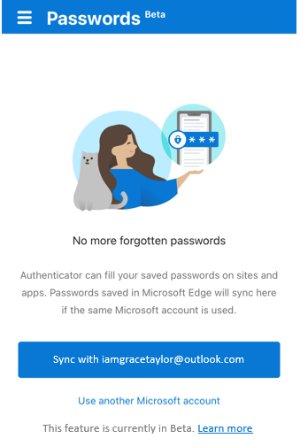 Microsoft's new Password Manager
Like the other password managers in the market, this tool will auto-fill credentials to compatible forms on websites and native apps. However, the support for auto-fill is likely to be restricted to Android and iOS, or, at best, Windows 10.
The software giant has not released any official information about the tool yet. We still don't know the name it has been given, either. As far as beta testers are concerned, the password management utility is built into the Microsoft Authenticator app, enabling convenient OTP generation for two-factor authentication.
Per reports, users would use their Microsoft account to share the credentials to other platforms. There may also be an option to bring the auto-fill features to Chrome soon, using the new Microsoft Autofill Extension.
"We are announcing the public preview of password management and autofill capability in the Microsoft Authenticator app. For any sites or apps you visit on your mobile device, Authenticator will help you autofill strong passwords without having to remember them. These passwords can be synced across mobile and desktop, so you can seamlessly autofill passwords as you move across devices," Microsoft said.
However, rumors say that Microsoft would be rolling out the independent app sooner. Earlier, rumor mills had predicted that Microsoft is working on a password manager that would integrate with the Microsoft 365 suite of services available for enterprise users.
However, a dedicated app — or at least a part of the app — is coming to individual users is good news to many tech enthusiasts. Users should keep in mind that the tools you find in the current preview version of the Microsoft Authenticator app are only half-baked when you look at them from the password management point of view.
While you can use the Microsoft Authenticator app to auto-fill the usernames and passwords already saved to Microsoft Edge browser and later synced to the Microsoft account, you shouldn't expect the features you usually see in password managers like 1Password or LastPass.
We will have to wait until a proper password manager's utility to enjoy such features as password generation, auto-login, and detection of potential data breaches.