Microsoft updated its Surface line-up and launched new products like the Surface Studio at its recent event. However, there is one launch that received less attention … the new Surface Ergonomic Keyboard. Priced at $130 the keyboard seems to be designed to perfection and is elegant as well. The elevated design complements the Alcantara finish at the resting place. The Ergonomic keyboard doesn't come with rechargeable batteries; however, it does come with AAA cells that Microsoft claims will last for a year.
Surface Ergonomic Keyboard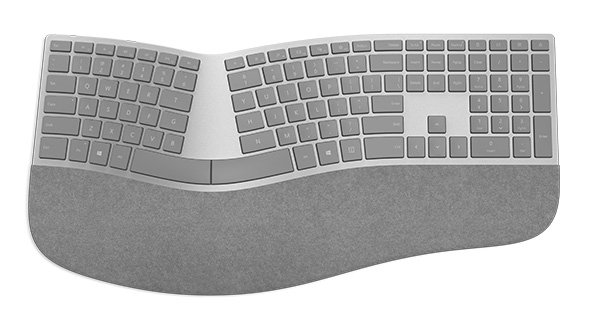 Additionally, Microsoft is also offering a one-year limited hardware warranty with the ergonomic keyboard. As one can see the keyboard is crafted out of two-tone gray shades with elevation in the middle alongside a small gap, this technique is expected to offer comfortable typing experience. The caveat, however, is that the keyboard is only compatible with Surface Pro 4, Surface Book, and Surface Studio. The keyboard is already up for preorder with no shipping fees and measures up to 460.14×229.22×34.73mm. Weighing at 1,0212 gms the ergonomic Keyboard is not light and will be an additional burden to carry around.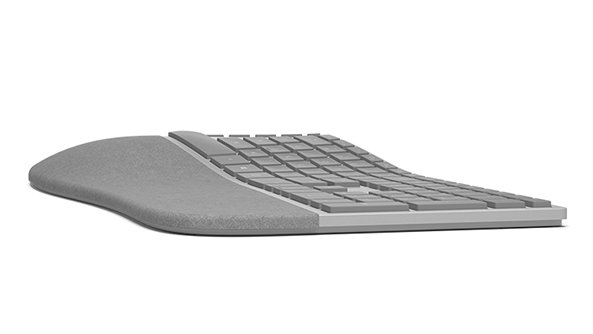 Apart from this Microsoft has also launched the Surface Keyboard that costs $100 and the Bluetooth-powered wireless keyboard is expected to also last for a year with the AAA batteries. The range can be up to 50-feet and even this keyboard comes with a minute elevation to enable better ergonomics for typing. Unlike the Ergonomic keyboard, this keyboard can be used with any device running Windows 8 and above, MacOS from v10.10.5 and Android 4.4.2 upwards. Thankfully this new keyboard also supports most of the operating systems.
Microsoft has also announced a Surface Mouse priced at $30, the wireless mouse also comes with the gray color option as the keyboards and the scrolling is managed by a metal wheel. The AAA batteries are promised to last for a year and it supports all the operating systems.