Just a few hours ago, I wrote about LinkedIn's security breach, now we have another one going down the same road. Microsoft's Xbox Support Twitter account has reportedly been hijacked by Syrian Electronic Army. Although Microsoft has, what it seems gained access to its account in less than an hour, it is the second time this month that one of Microsoft's Twitter account have had been compromised.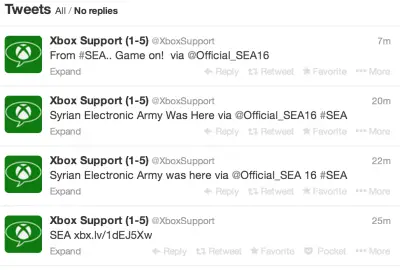 Microsoft's Xbox Support account, @XboxSupport posted a link to Syrian Electronic Army's website. The vicious minds then went on to tweet a couple of more things tagging Syrian Electronic Army's Twitter profile and relevant hashtags.
Although there is no proof of the hack left behind, as what it seems like, Microsoft regained access to its profile and cleared all the mess, TheNextWeb managed to arrange a screenshot of it.
This is the second time Syrian Electronic Army hijacked one of Microsoft's Twitter profile. Just this month, they also managed to hack into Skype's Twitter profile and tweeted some horrendous things about Microsoft's policies and how, according SEA they are selling our data. But, in neither happenstance they caused any severe damage to servers or any other critical information.
Meanwhile, Syrian Electronic Army has been tweeting about its accomplishments ever since. However, Microsoft hasn't reacted or acknowledged about this hijack yet. We will update this post as and when we get more information.
Find out: Have I been Hacked?