At //build/ 2015, Microsoft announced Continuum for Windows 10 Mobile phones. Here, a user could use their phones as a full-size PC with a large screen, keyboard, mouse and even touch. This experience was powered by the UWP or Universal Windows Platform capabilities. After that, Samsung introduced Samsung DEX with the Samsung Galaxy S8 that mimicked the same experience on the Android Flagship phone.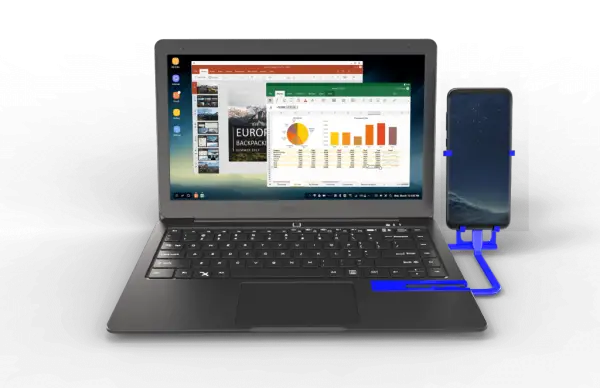 Mirabook turns smartphone into a laptop
Now, a company called Miraxess has come up with their all new Mirabook (funded via crowdsourcing) which brings together both the concepts. This is what they say on their website :
As people increasingly rely on their smartphones to organize their personal and professional lives, it is becoming evident that the traditional computer has been replaced by the smartphone as the main servant of our digital needs. Our vision is clear, Miraxess unleashes the power of your smartphone, and make it the only computer you will ever need.
At IFA 2016, Consumer Electronics Show 2016 and Mobile World Congress 2017 they showcased their device to the public and their device clearly reflected their vision.
Specifications
The laptop is geared up with a backlit keyboard, up to 10 hours of battery life, an FHD or 1080P 13.3 inch display, 2 USB Type C ports, 2 USB A 3.0 Ports, 1 HDMI Port, 1 Audio Jack of 3.5mm and 1 SD Card. This all is wrapped around an aluminum shell.
This device is currently on pre-order and will start shipping in mid of next year and will start at $249. This is what Miraxess say about the device on the website :
The Mirabook is full-fledged laptop extension for your smartphone which delivers a premium notebook experience. Simply connect your phone and transform it into an ultra-lightweight and customizable notebook with an elegant aluminum finish. Enjoy millions of applications on a larger screen, a full-sized keyboard and a trackpad and be truly productive.
The experience of using this device is similar to what it used to be with Microsoft's Continuum or Samsung's DEX as the Display, keyboard, and trackpad are embedded together into a single module. This is just like what we saw with the HP's Lapdock with the HP Elite X3.
You can check their website here for more information.