Cellphones running Windows 8.1 will get free upgrade to Windows 10. The technical preview of Windows phone 10 is not yet available but people are anticipating Windows 10 on their phones, if they are running Windows 8.1.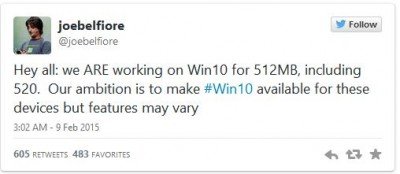 Experts were saying that not all Windows phone users will get Windows 10 on their phones because of hardware restrictions. In a tweet by Corporate VP of Microsoft Operating Systems group, Joe Belfiore, said that they (Microsoft) is working on a trimmed down version of Windows 10 for devices that came cheap with lower hardware specification. Even Lumia 520 type devices will get a Windows 10, but a trimmed down version with different features.
The tweet means that Microsoft will make sure almost all devices – mobiles, tablets, PCs and convertibles – run Windows 10 even though features may vary across the devices according to the hardware.
The news was tweeted by Joe on Sunday, announcing a separate version of Windows 10 for cheaper phones. The only catch is that some features will be not there. But almost all the phones will be running Windows 10 without any doubt. Maybe, the very old phones may not get an upgrade to Windows 10 but barring few models, all will eventually move to Windows 10 if the users opts for the latest operating system. With the host of features promised, users will sure want Windows 10. And going by that, Microsoft seems to be bent upon universal deployment of Windows 10.
Speaking of universal deployment of Windows 10, Microsoft is also creating a special version of Windows 10 for Raspberry. And it will also be free.
The goal of Microsoft is clear. Move everyone to Windows 10, keep them at it by providing feature upgrades and regular updates (probably on an annual subscription basis) until the device is functioning.
And probably Windows 10 will eventually be Windows 365 as Microsoft will now focus on Windows as a Service.