Aiming to help users keep track of their finances, Microsoft Excel has announced the launch of a new premium template Money in Excel. Managing and keeping track of personal finances can be difficult at times, and for several reasons. Sometimes, managing personal finances can be difficult in the absence of the right tools.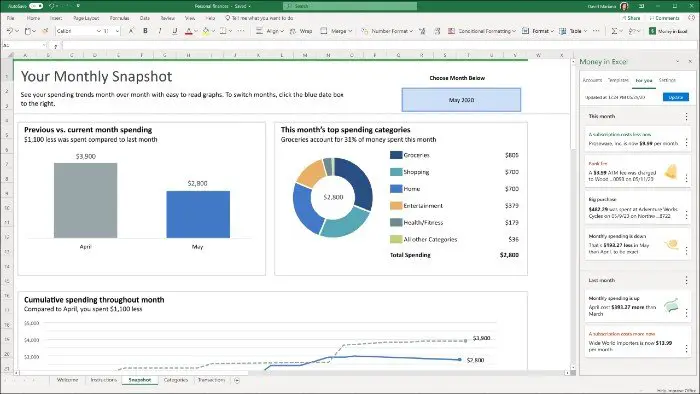 Microsoft Excel launches Money template
Well, Excel users can already keep track of their budgets, which requires users to manually update a spreadsheet once or twice a month with the recent transactions, and obviously, it can be a time-consuming process. Now, Microsoft is making it easier for users to track and organize their finances using Excel.
In its recent blog post, Microsoft wrote:
"From helping you track your monthly spending to alerting you about subscription price increases, Money in Excel makes it easy to manage your money. We hope that by using Money in Excel, organizing your finances becomes a more manageable and empowering experience."
What is Money in Excel
Money in Excel is a downloadable template for Microsoft Excel. Using this template, Microsoft Excel users can connect their bank, credit card, investment, and loan accounts to Excel. This way, Excel users can import their banking transaction and account information into a spreadsheet, further eliminating the need for manual data tracking and updating.
How to get started with Money in Excel
The Money in Excel template is available to download for Microsoft 365 Personal or Family subscribers. All you need to do is go to templates.office.com. Search for 'Money in Excel' and click the download button.
Once Microsoft 365 Personal and Family subscribers downloaded the template, all they need to do follow the on-screen prompts to connect their financial accounts using a third-party plugin. Upon the completion of account information verification, their latest transaction history will start to reflect in their workbook.
How does it work
Money in Excel automatically imports transaction data from all associated accounts into one workbook, and users simply need to click the 'Update' button if they want the latest transactions to reflect in the workbook.
What's more, the 'Snapshot' sheet enables users to track their spending habits with the help of graphs and pie charts. Money in Excel notifies users about an increase in their subscription fees, changes in bank and overdraft charges, among other things.
Personalize your finance management
Money in Excel also allows users to personalize the automated tracking of their finances.
"We know people often choose Excel to manage their finances because it allows them to take a more personalized approach. With this in mind, we designed Money in Excel to be easily customizable to suit your needs and goals."
Excel users can add their own transactions and remove the existing ones. They can also copy the relevant transactions into a new Excel sheet and perform quick calculations. Interestingly, users can also create their own charts and tables and add them to the workbook.
Recently, Microsoft added a new Excel function STOCKHISTORY that enables access to historical data.