Ever since its inception, Aadhaar has been embroiled in running battles with an assorted group of privacy and rights activists. They fear the huge biometric database is susceptible to the threat of information leak. Moreover, it has few or no data protection laws in place to address this problem. An open letter penned by Mozilla executive chairperson Mitchell Baker fuels these sentiments furthermore.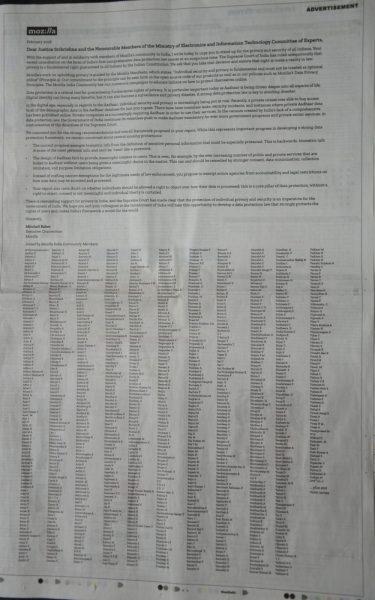 Mozilla executive outlines several missing protections in AADHAR
Privacy is a fundamental right. As such, no one can be deprived of his life or personal liberty but the letter from Mitchell Baker highlights that there have been numerous instances where there have been countless leaks, security incidents, and instances where private Aadhaar data has been published online. Private companies are increasingly requiring Aadhaar to use their services. In the vacuum created by India's lack of a comprehensive data protection law, the Government of India continues its relentless push to make Aadhaar mandatory for ever more government programs and private sector services, in contravention of the directives of the Supreme Court.
The letter then proceeds to outline several missing protections like,
Exemption of biometric info from the definition of sensitive personal information
Exempt offered to agencies from accountability and legal restrictions on how user data may be accessed and processed.
No right to object
Data protection is a critical tool for guaranteeing fundamental rights of privacy. Without any of the above measures in place, individual liberty is significantly curtailed.
For additional information, you can visit here.
About Aadhaar – It is a 12-digit unique identification number issued by The Unique Identification Authority of India (UIDAI) to all Indian residents based on their biometric and demographic data for availing social benefits run via various governmental schemes. The UIDAI is a statutory authority established under the provisions of the Aadhaar (Targeted Delivery of Financial and Other Subsidies, Benefits and Services) Act, 2016 ("Aadhaar Act 2016")