Following in the footsteps of Chromium-based web browser applications such as Google Chrome and Microsoft Edge, Mozilla has added a new option 'Firefox Experiments' to Firefox 79. This option will allow users to enable/disable experimental features under Preferences. By announcing this option, Firefox is following in the footsteps. Both Edge and Chrome allow users to try unreleased, experimental features from about:flags.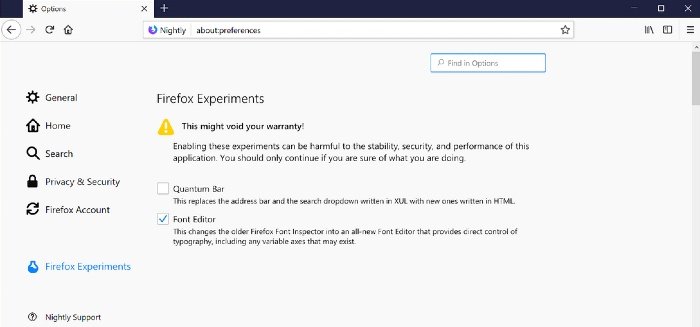 Mozilla launches a new 'Firefox Experiments' tab
Mozilla already offers a glimpse of features one could test exclusively on Nightly. In fact, Mozilla has a dedicated Experimental Features page on MDN just for that. But limiting experimental features to Firefox's Nightly channel has a limitation: A fairly limited number of 'curious' users. Now, extending some of these experimental features to stable releases will increase the scope of 'Firefox Experiments' as a whole.
Since they are only experiments, these features will not be enabled by default. Users can decide if they wish to enable particular features.
How to access Firefox Experiments menu
The 'Firefox Experiments' is currently limited to Firefox 79, which is in the Nightly channel. Navigate to Preferences by entering about:preferences in the browser's address bar or click the gear icon and got to 'Preferences.' Discover and set browser.preferences.experimental to True. Now, you should be able to see the 'Firefox Experiments' menu under Firefox 79 Preferences.
Upcoming Firefox 79 features and changes
In addition to 'Firefox Experiments,' the following is the list of changes being made Firefox in the upcoming version 79.
The OS compositor has been enabled for macOS when WebRender is enabled.
WebRender has been enabled for Macs with Intel GPUs on Nightly.
Firefox no longer supports macOS versions below 10.12.
Nightly has enabled the new WebRTC sharing indicator and notification silencing.
DevTools got some accessibility improvements.
The address bar now respects the OS prefers reduced motion setting and won't inflate when that setting is on.
Gecko now prevents abuse of the history push state by only enabling the back and forward buttons for addresses that were user-initiated.
Over the last couple of weeks, Firefox 79 has seen over 700 bugs resolved as fixed. Meanwhile, Firefox 77.0.1 is Mozilla's latest stable release. In the meantime, Firefox 78, which is in the Beta channel, will ship to Mozilla's stable release audience on June 30th.