With the renewed interest in Virtual Reality, we are witnessing a rapid increase in research around the field. Even browser makers are trying to replicate the Virtual Reality experience in the web. Mozilla has joined this league. It has released Mozilla Firefox Reality web browser, the first of its kind, dedicated to virtual reality portals.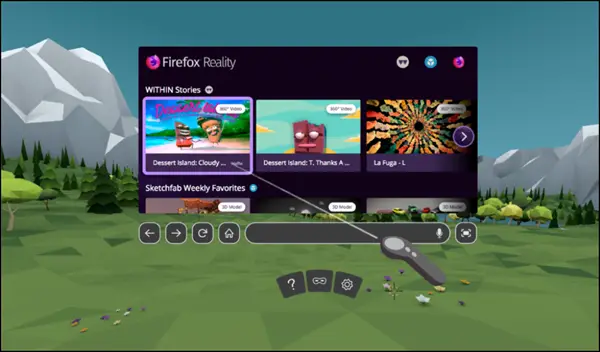 Being the first version, you cannot expect it to be of a perfect standard but it's good to see that the ecosystem is maturing in the right direction. The moment you open the browser, you are welcomed with immersive experiences that you can enjoy on a VR headset. Once there, you can adjust the screen size or the brightness.
Mozilla Firefox Reality browser
The browser relies on Quantum mobile browser engine. So, in addition to the VR experience and performance optimization options, it includes Mozilla's standard security and privacy features. For instance, there's support for privacy mode, enabling users to enjoy web-based VR content without worrying about tracking activities.
Earlier this year, we shared that we are building a completely new browser called Firefox Reality. The mixed reality team at Mozilla set out to build a web browser that has been designed from the ground up to work on stand-alone virtual and augmented reality (or mixed reality) headsets. Today, we are pleased to announce that the first release of Firefox Reality is available in the Viveport, Oculus, and Daydream app stores, said Sean White on Mozilla Blog.
Also, among the features accommodated, the addition to searching the web using your voice comes into the spotlight and mark an important change in the overall browser experience. It's an attempt to sidestep the difficulty of typing while wearing a device.
Future versions of the browser will likely include support for features such as bookmarks, 360-degree video playback, Firefox Sync, and more. For now, you can download Firefox Reality web browser for Daydream VR, Oculus Go, and Vive Wave.