Celebrating Microsoft Office 25th anniversary, Microsoft has released a new font called as MS Primer Font that allows users to visualize the meaning of each individual letter. Being one of its kind, MS Primer Font is an innovative concept wherein each individual letter is represented by a clipart symbol. Hence, when reading in Primer Font, in order to spell out the letters of a word you have to visualize the initial letter of the corresponding symbol.
MS Primer Font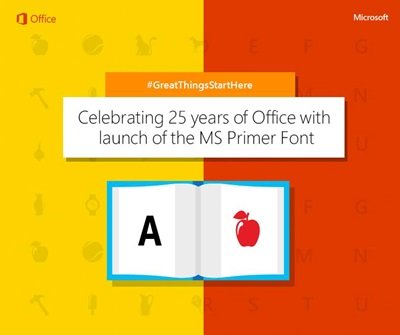 The announcement was made on Microsoft's Windows Page on the Facebook.
In celebration of Office's 25th anniversary, we decided to give a whole new dimension to font and language. Introducing the new MS Primer Font, which visually enables meaning to each individual letter, making it a smart way to learn English, universally.
So how does word 'Microsoft' look in MS Primer Font
On choosing MS Prima font in Microsoft Word, the word "Microsoft" is represented by 9 different clipart symbols.
Here is how Microsoft looks in MS Primer Font:

Here, the initial letter of each clipart represents an individual letter of the word "Microsoft", like –
Microsoft – Mango
Microsoft – Ice cream
Microsoft – Cat
Microsoft – Rabbit
Microsoft – Onion
Microsoft – Scissor
Microsoft – Onion
Microsoft – Fan
Microsoft – Television
The new MS Primer Font looks certain to be a part of riddles and puzzles in time to come. Apart from that, it's definitely a smart way to learn the English language. You can download the MS Primer Font by clicking here.